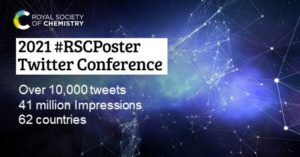 #RSCPoster is a global Twitter Poster Conference, held entirely online over the course of 24 hours. The event brings together the global chemistry community to network with colleagues across the world and at every career stage, share their research and engage in scientific debate.
The 2021 #RSCPoster Twitter Conference was held on 2 March, and brought together 5,500 attendees with almost 900 presenters from 62 countries sharing their science to a potential audience of over 41 million.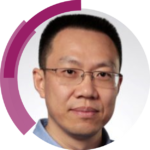 Chemical Science Associate Editor Yi-Tao Long was subject chair for #RSCAnalytical – we caught up with him to get his thoughts on the event and some advice for next year.
"This is the first time I joined this #RSCPoster event and found it really impressive. It is a very good opportunity for early career researchers and graduate students to present their work" noted Yi-Tao.
"As an Associate Editor, I think the presentation and storyline are so important for a scientific paper. Of course, science is the most important, but being interesting and appealing to a broad community is also vital" explains Yi-Tao. This advice holds true for #RSCPoster too. Yi-Tao advises, "be clear and readable when presenting the work, this makes it easier for others to be interested, especially researchers in other fields."
This year's #RSCAnalytical prize winner, @kellybrown_94, is a great example of this point, as Yi-Tao mentions, "this poster caught my eye at first glance".
It's that time of year again when Mr Ruthenium hits the spotlight…but this year he's not alone. Check-out my #RSCPoster & see what he & his friends have been getting up to this year in an effort to improve personalised cancer treatment therapies with ECL #RSCAnalytical #RSCPhys pic.twitter.com/yU03GqPGpY

— Kelly Brown (@kellybrown_94) March 2, 2021
Check out the full list of winners – CLICK HERE
This year we also saw the introduction of #RSCPosterPitch – short videos from our poster presenters bringing their research to life in creative ways. The entries in this new category were impressive, check out the winning #RSCPosterPitch from @alanqf22 for inspiration!
This is my #RSCPosterPitch! A 90s commercial📺 with a little bit of a sitcom! Hope u like it!
See the video in better quality here: https://t.co/DooNf4a68H
I'll be happy to answer your questions #RSCposter #RSCPhys #RedLatFQT #CompChem @theochemmerida @CINVESTAVMERIDA @LatinXChem pic.twitter.com/e43z7faOhD

— Alan QF (@alanqf22) March 2, 2021
Look out for more information on the 2022 #RSCPoster Twitter Conference – coming soon!
no registration fees
participate from anywhere with Twitter access
meet researchers from all over the world, at every career stage
spend as little or as much time attending as you like
cash and community prizes for the best posters as judged by our excellent Committees
community prize for the best #RSCPosterPitch as selected by our General Committee
Thank you to all participants and judges and hope to see you next year!
With thanks to our sponsoring RSC Interest Groups & journals:
Separation Science Group |  Environmental Chemistry Group | Molecular Spectroscopy Group | Porous Materials Group | Analyst | Analytical Methods | Biomaterials Science | Catalysis Science and Technology | ChemComm  | Chemical Science | Chemistry Education Research and Practice | Chem Soc Rev | CrystEngComm | Dalton Transactions | Energy & Environmental Science | Environmental Science: Atmospheres | Environmental Science: Nano | Environmental Science: Processes and Impacts | Environmental Science: Water Research & Technology | Faraday Discussions | Food & Function | Green Chemistry | JAAS | Journal of Materials Chemistry A | Journal of Materials Chemistry B | Journal of Materials Chemistry C | Lab on a Chip | Materials Advances | Materials Horizons | Molecular Omics | MSDE | Nanoscale | Nanoscale Advances | Nanoscale Horizons | Natural Product Reports | NJC | Organic & Biomolecular Chemistry | PCCP | Polymer Chemistry | Reaction Chemistry & Engineering | RSC Advances | RSC Chemical Biology | RSC Medicinal Chemistry |Soft Matter | Sustainable Energy & Fuels