We wish a very warm welcome to our new Chemical Science Associate Editor Professor Subi George!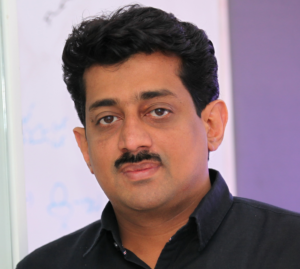 Subi George was born on January 1st, 1977 in a quaint little village in the south Indian state of Kerala. He is a Professor and Associate Chair of the New Chemistry Unit, Jawaharlal Nehru Centre for Advanced Scientific Research (JNCASR), Bangalore, India. He obtained his PhD degree at the National Institute for Interdisciplinary Science and Technology, India in 2004 and during 2005-2008 he was a post-doctoral fellow at the Eindhoven University of Technology in the Netherlands.
Professor George is currently leading an Organic Materials and Supramolecular Chemistry group at JNCASR. His current research interests focus on Organic Responsive and Adaptive Materials, Functional Supramolecular Polymers, Living and Non-equilibrium supramolecular polymerization, Supramolecular Chirality and Organic optoelectronic materials.
He is the recipient of the prestigious Shanti Swarup Bhatnagar (SSB) Prize for Science and Technology from the Government of India in the Chemical Sciences Category for the year 2020. He was also the recipient of Swaranjayanti Fellowship from Department of Science and Technology of Government of India (2017), Asian Photochemistry Association (APA) Young Scientist award (2015), NASI-SCOPUS Young Scientist Award in Chemistry (2015), Chemical Research Society of India Bronze Medal (2015) and Materials Research Society of India Medal (2013). In 2011-2013 he was a Young Associate of the Indian Academy of Sciences and in 2019 he was elected as a Fellow of Indian Academy of Sciences. He is currently a member of the Editorial Advisory Boards of Chemistry of Materials (ACS), Material Horizons (RSC), Chem (Cell) and Organic Materials (Thieme).
Browse a selection of Subi's work below:
Controlled synthesis of organic two-dimensional nanostructures via reaction-driven, cooperative supramolecular polymerization
Shikha Dhiman, Rita Ghosh, Souvik Sarkar and Subi J. George
Chem. Sci., 2020, Advance Article
DOI: 10.1039/D0SC02670K, Edge Article
Part of our Celebrating 10 years of Chemical Science collection
Electric field assisted assembly of 1D supramolecular nanofibres for enhanced supercapacitive performance
Suman Kundu, Subi J. George and Giridhar U. Kulkarni
J. Mater. Chem. A, 2020, 8, 13106-13113
DOI: 10.1039/D0TA03901B, Paper
Bioinspired, ATP-driven co-operative supramolecular polymerization and its pathway dependence
Ananya Mishra, Divya B. Korlepara, Sundaram Balasubramanian and Subi J. George
Chem. Commun., 2020, 56, 1505-1508
DOI: 10.1039/C9CC08790G, Communication
Bio-inspired temporal regulation of ion-transport in nanochannels
K. P. Sonu, Sushmitha Vinikumar, Shikha Dhiman, Subi J. George and Muthusamy Eswaramoorthy
Nanoscale Adv., 2019, 1, 1847-1852
DOI: 10.1039/C8NA00414E, Paper
Bioinspired temporal supramolecular polymerization
Shikha Dhiman, Aritra Sarkar and Subi J. George
RSC Adv., 2018, 8, 18913-18925
DOI: 10.1039/C8RA03225D, Review Article


Submit to Chemical Science today! Check out our author guidelines for information on our article types or find out more about the advantages of publishing in a Royal Society of Chemistry journal.
Keep up to date with our latest articles, reviews, collections & more by following us on Twitter. You can also keep informed by signing up to our E-Alerts.