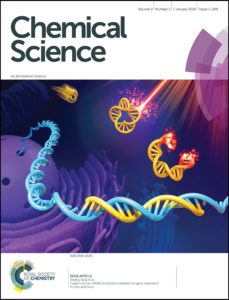 At the end of June, Clarivate Analytics announced their 2017 Impact Factors via Journal Citation reports®. We were delighted to see that the Impact Factor of our flagship journal Chemical Science increased by 4.6% to 9.1! For us, it is all about giving our authors the visibility and recognition their research deserves and this increase in Impact Factor helps demonstrate this. As we move through 2018 we have also launched our ChemSci Picks and promoted selected articles through video abstracts – see here for the latest of these – giving our published content a wider reach.
Thank you to all our authors, referees, Associate Editors, and Editorial and Advisory Board members for contributing to the journal's continued impact and success – this achievement would not have been possible without your support and trust. Chemical Science remains dedicated to publishing research of exceptional significance from across the chemical sciences.
Chemical Science became a gold open access journal in January 2015, giving the global community free access to high quality research while paying all Article Processing Charges (APCs) on behalf of our authors, keeping articles free to publish.  This unique combination of open access, top quality articles, a flexible format and world-class Associate Editors makes it clear why so many leading scientists choose to publish in Chemical Science.
We invite you to submit your exceptional research to Chemical Science today.
Take a look at some of the highest cited papers and reviews from 2017:
Perspectives
Recent developments in and perspectives on three-coordinate boron materials: a bright future
Lei Ji, Stefanie Griesbeck and Todd B. Marder
Chem. Sci., 2017, 8, 846-863
Luminescent chemosensors by using cyclometalated iridium(III) complexes and their applications
Dik-Lung Ma, Sheng Lin, Wanhe Wang, Chao Yang and Chung-Hang Leung
Chem. Sci., 2017, 8, 878-889
Minireviews
How molecular motors work – insights from the molecular machinist's toolbox: the Nobel prize in Chemistry 2016
D. Astumian
Chem. Sci., 2017, 8, 840-845
Peptide-templated noble metal catalysts: syntheses and applications
Wei Wang, Caleb F. Anderson, Zongyuan Wang, Wei Wu, Honggang Cui and Chang-Jun Liu
Chem. Sci., 2017, 8, 3310-3324
Edge Articles
The IPEA dilemma in CASPT2
Patrick Zobel, Juan J. Nogueira and Leticia González
Chem. Sci., 2017, 8, 1482-1499
Hydroxide-bridged five-coordinate DyIII single-molecule magnet exhibiting the record thermal relaxation barrier of magnetization among lanthanide-only dimers
Jin Xiong, Hai-Yan Ding, Yin-Shan Meng, Chen Gao, Xue-Jing Zhang, Zhao-Sha Meng, Yi-Quan Zhang, Wei Shi, Bing-Wu Wang and Song Gao
Chem. Sci., 2017, 8, 1288-1294
Single-atom catalysts for CO2 electroreduction with significant activity and selectivity improvements
Seoin Back, Juhyung Lim, Na-Young Kim, Yong-Hyun Kim and Yousung Jung
Chem. Sci., 2017, 8, 1090-1096
Read more Impact Factor highlights for the Royal Society of Chemistry's leading journals, including Chemical Communications and Chemical Society Reviews.
Find out how other RSC journals are ranked in the latest Impact Factor release
Chemical Science is the world's first high-quality gold open access chemistry journal (open access from January 2015).
*The Impact Factor provides an indication of the average number of citations per paper. Produced annually, Impact Factors are calculated by dividing the number of citations in a year, by the number of citeable articles published in the preceding two years. Data based on 2017 Journal Citation Reports®, (Clarivate Analytics, 2018).