Since Chemical Science was launched in 2010, we have been overwhelmed by the support of our global community. And with our latest Impact factor at 9.144, according to citation data released by Thomson Reuters in its 2015 Journal Citation Reports®, we are truly grateful to all of you – our authors, referees, readers, Associate Editors, and Editorial and Advisory Board members – for your enthusiastic support towards the journal's success.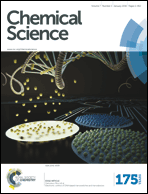 In less than six years, Chemical Science has grown and developed into one of the world's leading chemistry journals, maintaining a strong and sustained impact, even as we saw significant growth in the number of articles published in recent years.
And having gone open access in 2015, it continues to be free to read, as well as free for authors to publish in – all publication charges continue to be waived. Therefore through Chemical Science your high-quality work can be freely read, with absolutely no barriers, by your peers and by researchers around the world.
We want our momentum to keep on building
With increasing submissions, this does mean that now – more than ever – it is essential that we publish only the best of the best, nothing less than the most exceptional science. For us, it's all about quality and excellence, recognition and visibility, as we aim higher for the rest of 2016 and beyond.
We aim for Chemical Science to be the global home for cutting-edge solutions to today's most pressing challenges, communicated worldwide, without barriers – will you join us as we move closer to our vision?
Then submit only your top-quality work to Chemical Science, and be a key part of the solution.
Top cited Chemical Science articles:
Perspectives and Minireviews
Evaluating metal–organic frameworks for natural gas storage
Jarad A. Mason, Mike Veenstra and Jeffrey R. Long
Chem. Sci., 2014, 5, 32-51
DOI: 10.1039/C3SC52633J, Perspective
Earth-abundant hydrogen evolution electrocatalysts
James R. McKone, Smaranda C. Marinescu, Bruce S. Brunschwig, Jay R. Winkler and Harry B. Gray
Chem. Sci., 2014, 5, 865-878
DOI: 10.1039/C3SC51711J, Minireview
Transition metal-catalyzed direct nucleophilic addition of C–H bonds to carbon–heteroatom double bonds
Xi-Sha Zhang, Kang Chen and Zhang-Jie Shi
Chem. Sci., 2014, 5, 2146-2159
DOI: 10.1039/C3SC53115E, Minireview
NKP-1339, the first ruthenium-based anticancer drug on the edge to clinical application
Robert Trondl, Petra Heffeter, Christian R. Kowol, Michael A. Jakupec, Walter Berger and Bernhard K. Keppler
Chem. Sci., 2014, 5, 2925-2932
DOI: 10.1039/C3SC53243G, Perspective
Edge articles
A dual emission fluorescent probe enables simultaneous detection of glutathione and cysteine/homocysteine
Xiao-Feng Yang, Qian Huang, Yaogang Zhong, Zheng Li, Hua Li, Mark Lowry, Jorge O. Escobedo and Robert M. Strongin
Chem. Sci., 2014, 5, 2177-2183
DOI: 10.1039/C4SC00308J, Edge Article
Sandmeyer trifluoromethylthiolation of arenediazonium salts with sodium thiocyanate and Ruppert–Prakash reagent
Grégory Danoun, Bilguun Bayarmagnai, Matthias F. Gruenberg and Lukas J. Goossen
Chem. Sci., 2014, 5, 1312-1316
DOI: 10.1039/C3SC53076K, Edge Article
Photoredox activation and anion binding catalysis in the dual catalytic enantioselective synthesis of β-amino esters
Giulia Bergonzini, Corinna S. Schindler, Carl-Johan Wallentin, Eric N. Jacobsen and Corey R. J. Stephenson
Chem. Sci., 2014, 5, 112-116
DOI: 10.1039/C3SC52265B, Edge Article
A pillar[5]arene/imidazolium [2]rotaxane: solvent- and thermo-driven molecular motions and supramolecular gel formation
Shengyi Dong, Jiayin Yuan and Feihe Huang
Chem. Sci., 2014, 5, 247-252
DOI: 10.1039/C3SC52481G, Edge Article
Read more about the Royal Society of Chemistry's journals 2015 impact factors
*The Impact Factor provides an indication of the average number of citations per paper. Produced annually, Impact Factors are calculated by dividing the number of citations in a year to articles published in the preceding two years, by the number of citeable articles published in the preceding two years. Data based on 2015 Journal Citation Reports®, (Thomson Reuters, 2016).