Johnson et al. propose that a synergy between chemical sciences and law research needs to be deployed to address the plastic pollution challenge through tracing technologies.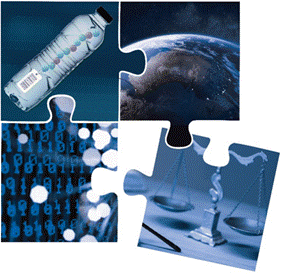 Among the major challenges faced by societies worldwide is the reduction of plastic pollution which has risen to be one of the largest environmental issues of the planet. A key barrier to improving plastic management is the inability to trace plastics along supply and value chains.
Addressing this issue, Johnson, Barner-Kowollik and colleagues with equal first authors Chambers and Holloway highlight how valorization of state-of-the-art chemistry could help eradicate plastic anonymity and propose that plastic management can become efficient once production of traceable plastics is implemented and incorporated into the legal frameworks for plastics governance.
To embed information into plastics and access it throughout its lifetime, both the inherent chemical composition of the macromolecules and chemical labelling can be exploited. Spectroscopic identification can fingerprint polymer chemistry but tracing a specific polymer to the producer would require introducing unique labels in the plastic material, with little information depth. Alternatively, information can be introduced through physically labelling the surface of a material. Both approaches carry information that can be readily affected by degradation over time. Chemical labeling with sequence-defined polymers on the other hand can be used to embed all necessary information within the material without being compromised by degradation. Barner-Kowollik and coworkers highlight state-of-the-art synthetic routes toward sequence-defined polymers, review the approaches to decode them and provide a set of criteria to be fulfilled by advanced read-out methodologies in order to successfully integrate such advanced plastics into recycling facilities.
Critical improvements to regulation policies need to be implemented to leverage on advanced plastics and especially sequence-defined polymers traceability. The authors propose that five key areas need to be addressed in law and policy: design or eco-design standards to reduce the environmental impacts of products and services along their entire lifecycle, consumer behavior to reduce consumption and encourage eco-friendlier choices, recycling systems to compensate the high cost of collecting, sorting and recycling materials, extended-producer responsibility schemes to respond to plastic waste, and combatting illegal waste streams that breache domestic or international laws.
This perspective is a critical overview on how chemistry, law and social sciences should advance, coordinate and collaborate in order to address the issue of plastic pollution in the most efficient manner.
Tips/comments directly from the authors:
It's been an amazing journey for our team of chemists to work with colleagues from the faculty of law. It took many conversations, lots of explanations and the willingness on both sides to learn about law and chemistry, respectively. The process was enormously rewarding for the entire team, who continues to work together on developing plastic tracers in a joint effort between law and chemistry.
We highly recommend to all chemistry colleagues to research out into the humanities and social sciences for collaboration opportunities. These research fields have equal importance to the natural sciences and engineering, deliver enormous value and help chemists to put an entirely different perspective onto their own research. We believe the chemistry community should be at the absolute forefront of engaging with the social sciences and humanities.
We are very proud of Polymer Chemistry (RSC) for opening the journal to law research that speaks to chemical problems and being a trailblazer for true transdisciplinary research.
Citation to the paper: Using precision polymer chemistry for plastics traceability and governance, Polym. Chem., 2022, 13, 6082-6090.
Link to the paper: https://pubs.rsc.org/en/content/articlelanding/2022/py/d2py01180h
Follow Christopher Barner-Kowollik on Twitter @BarnerKowollik and the QUT Centre for Materials Science @QUTmaterials to keep up to date with their latest research
Dr. Kelly Velonia is an Advisory Board Member and a Web Writer for Polymer Chemistry. She joined the Department of Materials Science and Technology at the University of Crete in 2007. Research in her group focuses on the synthesis and applications of bioconjugates and biopolymersYou can follow Kelly on twitter @KellyVelonia

---