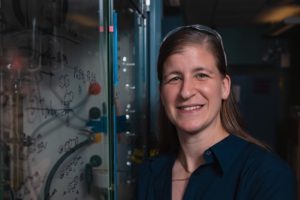 Beth received her B.S. Degree in Chemistry and Biology from Le Moyne College where her research focused on the total synthesis of natural products. She spent a year at SUNY-Environmental Science and Forestry at the Michael Szwarc Polymer Research Institute, then went to the University of Iowa. Beth worked in the research group of Leonard R. MacGillivray, and received her Ph.D. in 2012. After graduation, Beth started as a Postdoctoral Research Associate at New York University working alongside Marcus Weck at New York University from 2013 – 2017. In 2017, she joined the faculty at Penn State. The Elacqua group works at the interface of organic synthesis and polymer chemistry, focusing on grand challenges that lie at the interface of the two fields, and has been supported by the Doctoral New Investigator Award of the ACS and the Alfred P. Sloan Foundation, along with an NSF Center of Chemical Innovation and NSF CAREER award. Beth's work has also been recognized by the ACS Division of Organic Chemistry's Young Academic Investigator Award and the ACS Division of Polymeric Materials: Science and Engineering Early Stage Investigator Award, along with the Rustum and Della Roy Materials Innovation Award at Penn State.
Read Beth's Emerging Investigator article, Synthesis and characterization of a ruthenium-containing copolymer for use as a photoredox catalyst, DOI D3PY00428G. 
Read our interview with Beth below:
How do you feel about Polymer Chemistry as a place to publish research on this topic?
Our group works on a diverse array of research that spans over polymer chemistry, organic synthesis, and catalysis. We often feel that the broad readership of Polymer Chemistry comprises scientists that are interested in all aspects of our group's work which is often centered in fundamental polymer synthesis and a little less on applications. Thus, it is often a perfect place to submit papers that we feel are exciting from an overall polymer perspective and we know the readership will benefit from these findings.
Can you share one piece of career-related advice or wisdom with other early career scientists?
Honestly, all of our group's main projects have been things that were not necessarily in my wheelhouse when I started academia. With that said, I think my advice would be to not shy away from learning new things that are exciting you and/or your group. New areas and directions can always be bolstered by collaborations and discussions with colleagues as well. It's genuinely more fun to do the science that excites you and have that be boundless (within reason of course), then it is to feel limited by your background or exposure. 
Keep up to date with all of Beth's research by going to her website or following her on X @beth_elacqua.