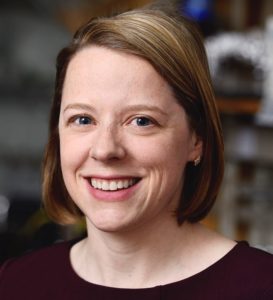 Prof. Rebekka S. Klausen carried out graduate studies in organic synthesis with Prof. Eric N. Jacobsen (Ph.D. 2011, Harvard University) and postdoctoral research in single molecule electronics with Prof. Colin Nuckolls (2011-2013, Columbia University). In 2013, she joined the Johns Hopkins University Department of Chemistry as an Assistant Professor and is now the Second Decade Society Associate Professor. Her research program has been recognized with awards including the ACS Award in Pure Chemistry (2021) and the ACS Macro Letters / Biomacromolecules / Macromolecules Young Investigator Award (2022). Rebekka's research interests broadly encompass polymer synthesis, with unique contributions in the areas of the development of organometallic polymers of the main group, control of polymer tacticity, and the synthesis of functional materials inaccessible from traditional feedstocks. Read about more of Rebekka's research on her lab website.
She has given her thoughts on future of the polymer chemistry field and the role of Polymer Chemistry:
"Postpolymerization functionalization is an area where I see a lot of creative new directions. I'm excited about the potential for exploiting native functionalities in polymers for synthetic diversification. Another growth area is the "transformable monomer" concept, in which a monomer with privileged polymerization reactivity serves as a replacement for a more challenging monomer by way of postpolymerization transformation to another functional group, which allows access to polymers that are hard to make from traditional feedstocks. Postpolymerization functionalization is also going to grow as a central component in enabling sustainable polymers, whether through upcycling of post-consumer plastics or through chemical degradation. By joining the Polymer Chemistry editorial board, I hope to showcase the very best scientific research on these themes."

Professor Klausen's favourite recent Polymer Chemistry articles
Professor Klausen has selected some recent publications in Polymer Chemistry that she has found particularly interesting or insightful. These articles are all free to read until 10 November 2023.
Photoinduced SET to access olefin-acrylate copolymers
John B. Garrison , Rhys W. Hughes , James B. Young and Brent S. Sumerlin
Polym. Chem, 2022, 13, 982-988
An electrochemical Hofmann rearrangement on acrylamide copolymers
Muzhao Wang and Paul Wilson.
Polym. Chem., 2023, 14, 3057-3062
Light-accelerated depolymerization catalyzed by Eosin Y
Valentina Bellotti, Kostas Parkatzidis, Hyun Suk Wang, Nethmi De Alwis Watuthanthrige, Matteo Orfano, Angelo Monguzzi, Nghia P. Truong, Roberto Simonutti and Athina Anastasaki
Polym. Chem., 2023, 14, 253-258
Read Professor Klausen's Polymer Chemistry articles
RAFT Polymerization of an Aromatic Organoborane for Block Copolymer Synthesis
Sophia J. Melvin, Braden A. Mediavilla, Em G. Ambrosius, Qifeng Jiang, Fan Fang, Yuyang Ji, Tushita Mukhopadhyaya, Howard E. Katz and Rebekka S. Klausen
Polym. Chem., 2023, Advanced Article
Effect of polycyclosilane microstructure on thermal properties
Qifeng Jiang, Sydnee Wong & Rebekka S. Klausen
Polym. Chem., 2021, 12, 4785-4794
Metallocene influence on poly(cyclosilane) structure and properties
Carlton P. Folster & Rebekka S. Klausen
Polym. Chem., 2018, 9, 1938-1941
All the highlighted articles are currently FREE to read until 10 November 2023!