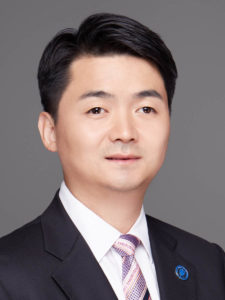 We wish a very warm welcome to our new Chemical Science Associate Editor Jinlong Gong!
Jinlong Gong studied chemical engineering and received his B.S. and M.S. degrees from Tianjin University and his Ph.D. from the University of Texas at Austin. Upon the completion of postdoctoral research at Harvard University, he joined the faculty of chemical engineering at Tianjin University, where he currently holds a Pei Yang Chair Professorship.
His research group work on heterogeneous catalysis and kinetics with a focus on catalytic conversions of small molecules, production of hydrogen energy, and syntheses and applications of nanostructured catalytic materials.
Browse a selection of Jinlong's work below:
Facilitating the reduction of V–O bonds on VOx/ZrO2 catalysts for non-oxidative propane dehydrogenation
Yufei Xie, Ran Luo, Guodong Sun, Sai Chen, Zhi-Jian Zhao, Rentao Mu and Jinlong Gong
Chem. Sci., 2020, 11, 3845-3851
DOI: 10.1039/D0SC00690D, Edge Article
Gas–water interface engineered exceptional photoconversion of fatty acids to olefins
Qin Dai, Jingyi Lin, Hongbin Cao, He Zhao, Guangfei Yu, Chaoqun Li, Tianyu Wang, Yanchun Shi, Guangwei Wang and Jinlong Gong
Green Chem., 2020, 22, 7848-7857
DOI: 10.1039/D0GC02237C, Paper
Theoretical insights into single-atom catalysts
Lulu Li, Xin Chang, Xiaoyun Lin, Zhi-Jian Zhao and Jinlong Gong
Chem. Soc. Rev., 2020, 49, 8156-8178
DOI: 10.1039/D0CS00795A, Review Article
Operando characterization techniques for electrocatalysis
Jingkun Li and Jinlong Gong
Energy Environ. Sci., 2020, 13, 3748-3779
DOI: 10.1039/D0EE01706J, Review Article
Core–shell structured catalysts for thermocatalytic, photocatalytic, and electrocatalytic conversion of CO2
Sonali Das, Javier Pérez-Ramírez, Jinlong Gong, Nikita Dewangan, Kus Hidajat, Bruce C. Gates and Sibudjing Kawi
Chem. Soc. Rev., 2020, 49, 2937-3004
DOI: 10.1039/C9CS00713J, Review Article

Submit to Chemical Science today! Check out our author guidelines for information on our article types or find out more about the advantages of publishing in a Royal Society of Chemistry journal.
Keep up to date with our latest articles, reviews, collections & more by following us on Twitter. You can also keep informed by signing up to our E-Alerts.