We are very pleased to introduce Tarek Aboul-Fadl, corresponding authors of the paper 'Inversion kinetics of some E/Z 3-(benzylidene)-2-oxo-indoline derivatives and their in silico CDK2 docking studies'. His article has been very well received and handpicked by our reviewers and handling editors as one of our HOT articles. Tarek told us more about the work that went into this article and what he hopes to achieve in the future. You can find out more about the author and his article below and find more HOT articles in our online collection.
Meet the author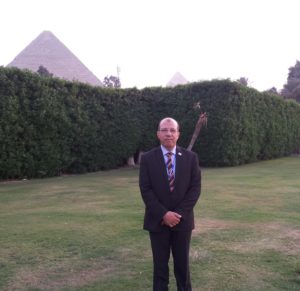 Dr Tarek Aboul-Fadl is a Prof. of Medicinal Chemistry at Faculty of Pharmacy, Assiut University/Egypt. Dr Aboul-Fadl received his Ph.D. in Pharmaceutical Medicinal Chemistry from Assiut University (1994) under the channel system and joint supervision scheme between Assiut University and Josai University/Japan. Dr Aboul-Fadl performed his postdoctoral training as a postdoctoral research fellow and Scientist at Institute of Pharmaceutical Chemistry, University of Vienna, Austria (1997- 1998), Institute of Pharmacy and Food Chemistry, Friedrich-Alexander-Universität (FAU), Erlangen-Nürnberg, Germany (1999 and 2013) and Department of Medicinal Chemistry, University of Utah, USA (2001-2002 and 2004-2005). Dr Aboul-Fadl joined Department of Medicinal Chemistry as an assistant Prof. in 1994, then promoted to associate Prof. in 1999 and to Professor in 2004. Dr Aboul-Fadl is a member of Egyptian Syndicate of Pharmacists since 1984, Egyptian Society of Pharmacists since 1994, American Chemical Society since 2002, The Stop TB Partnership Working Group on New TB Drugs (WGND) since Feb. 2010 and Member of Drug Research Council of Egyptian Academy of Scientific Research and Technology since June 2018. He is the author or co-author of more than 130 papers in international peer-reviewed journals and conferences and he has 4 patents Furthermore, he is a reviewer and a member of editorial board of several international journals. Dr Aboul-Fadl's research interests are currently focused on computer aided drug design, design and development of cell cycle inhibitors as a potential anticancer agents, design and development of antituburcular drugs and Prodrugs and chemical delivery systems. ( Web: https://cutt.ly/nxONkAT).
Could you briefly explain the focus of your article to the non-specialist (in one or two sentences only) and why it is of current interest?
Atoms of a particular molecule can arrange distinctly in the space giving to what is called isomers. The later do not necessarily share similar chemical or physical properties. Moreover, they could exert different biological activity and even toxicity, the tragedy of the thalidomide drug is still in mind.
How big an impact could your results potentially have?
E/Z-Isomerization of some drugs such as Sunitinib " an anticancer drug" and its analogs as our molecules can affect the bioavailability and the pharmacological activities. Accordingly the possibility of inversion of these isomers to each other worthy to be study for good shelf live, maximum biological activities and drug safety.
Could you explain the motivation behind this study?
Sunitinib as an anticancer drug is bound to its receptor in the form of Z-diastereomer, even though they were the E-diastereomer in solution. The E form must be isomerized to the Z form before binding as the E-diastereomer is inactive. This was the motive to study the rate of isomerization in a polar solvent as DMSO. Furthermore, generation of a good multiple regression equation for prediction of stability of the diastereomers based on Quantum mechanics parameters.
In your opinion, what are the key design considerations for your study?
Development of inexpensive new anti-cancer agents with good potency and offer both selectivity and lower toxicity.
Which part of the work towards this paper proved to be most challenging?
The most challenging part was the generation of the predictive equation from the Quantum mechanics parameters and the rate of isomerization.
What aspect of your work are you most excited about at the moment?
Agreement of the laboratory results with those obtained by applying the generated equation. This will lead to confident prediction for the isomerisation rates of similar molecules and possible wide application in the pharmaceutical field.
What is the next step? What work is planned?
In vitro study of the antiproliferative activity and CDK2 inhibitory activity of the synthesized compounds. Investigations of isomerization in non-polar solvents and buffer induced isomerization particularly physiological and simulated gastric fluids buffers in addition to photoisomerization of these compounds and similar analogues.
Inversion kinetics of some E/Z 3-(benzylidene)-2-oxo-indoline derivatives and their in silico CDK2 docking studies
Hany S. Mansour, Hend A. A. Abd El-wahab, Ahmed M. Ali and Tarek Aboul-Fadl
RSC Adv., 2021,11, 7839-7850
DOI: 10.1039/D0RA10672K, Paper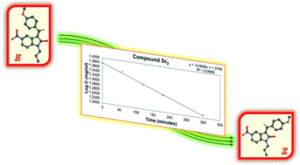 Submit to RSC Advances today! Check out our author guidelines for information on our article types or find out more about the advantages of publishing in a Royal Society of Chemistry journal.
Keep up to date with our latest HOT articles, Reviews, Collections & more by following us on Twitter. You can also keep informed by signing up to our E-Alerts.