It is the start of 2021 and we want to talk about more emerging scientists in our community. Beginning with Artur Kasprzak who recently published his #ChemComm1st article: 'Disaggregation of a sumanene-containing fluorescent probe towards highly sensitive and specific detection of caesium cations'.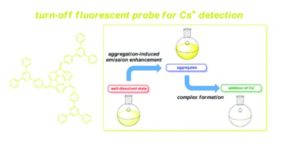 Read our interview with Artur below.
What are the main areas of research in your lab and what motivated you to take this direction?
My lab is working in various areas of chemistry, including ferrocene systems, magnetic nanomaterials, biologically active dendrimers, sumanene-tethered systems, pi-conjugated molecules, and many more. We are a young group of organic and materials chemists. The compounds and materials that we create might offer many interesting properties and applications, such as catalysis or analyte recognition. All these points make us passionate about our fields of enterprise.
Can you set this article in a wider context?
In this ChemComm article we merged several topics in chemistry, namely (i) modification of sumanene, a fullerene fragment exhibiting many interesting properties, (ii) aggregation-induced emission enhancement effect (AIEE), which is a unique property that has not been commonly reported for sumanene-derived compounds, (iii) caesium cation (Cs+) induced disaggregation feature. The last point of our work is especially interesting, since site-selective Cs+ recognition is indeed the novel feature of sumanene derivatives that has been explored by my group and the group of prof. H. Sakurai (Osaka University). Additionally, it has an important wider application, since Cs+ detection is of a highest environmental because significant amounts of caesium has been detected in many radiated, post-disaster areas (like after the nuclear plant accident Fukushima-Daiichi in 2011). With our compound we can detect such low Cs+concentrations like 1.5·10-7 M !
What do you hope your lab can achieve in the coming year?
Hopefully, many great things! Now, we are intensively investigating ferrocene and sumanene chemistry and we anticipate that these chemistries can provide such wonderful results as these recently published in ChemComm. My research group has recently been preparing new organized structures bearing ferrocene or sumanene motifs, so we would like to study these exciting chemistries even more and publish these results in such respected journals as ChemComm. We are always seeking for potential collaborators so we would like to expand our areas of enterprises in the coming year.
Describe your journey to becoming an independent researcher.
From the very beginning of my scientific career, I was fortunate enough to collaborate with many great scientists that have been very kind and inspirational. Now, I appreciate it even more than before. I think that expanding the research horizons and scientific interests was the thing that enabled me to become an independent scientist that can collaborate with many researchers in various interesting fields. In my opinion everything is about enjoying the chemistry and seeing beyond your areas of enterprise. In my case, continually expanding the knowledge in various fields and keeping in touch with many experts really stimulated my independent researcher career. Now, I do my very best to guide my students through the same scientific career path that once I undertook.
What is the best piece of advice you have ever been given?
Work hard and be creative. To me it sounds like the best way to become a great scientist!
Why did you choose to publish in ChemComm?
In my opinion, ChemComm is the world's leading chemical journal that publishes cutting-edge articles in general chemistry. Thus, when we considered the most suitable journal to publish these interesting results, ChemComm was our first choice! Additionally, I have also had many good experiences in publishing with RSC, because of its professionalism at every publication step as well as fast publications times.
Artur Kasprzak received his B.S. (2015), M.S. (2016) and PhD (2020) in Chemistry from Faculty of Chemistry, Warsaw University of Technology (Poland) under the supervision of Prof. Mariola Koszytkowska-Stawinska and Dr. Magdalena Poplawska. He has also spent half a year in the group of Prof. Hidehiro Sakurai at Osaka University working on the applications of sumanene-containing molecules towards the design of Cs+ recognition materials. His PhD thesis was focused on the synthesis and applications of functional materials based on the carbon-encapsulated iron nanoparticles. Now, working as an assistant professor at Warsaw University of Technology and leading a young research group (Functional Organic Compounds Group, a subgroup of Biofunctional Materials Group) he explores the chemistry and applications of π-conjugated molecules, metallocene-tethered systems and nanomaterials.


ORCID: 0000-0002-4895-1038




Researchgate: https://www.researchgate.net/profile/Artur_Kasprzak




www: http://zcho.ch.pw.edu.pl/skl_kas.html
Read Artur's work and more #ChemComm1st articles in ChemComm Milestones – First Independent Articles. Follow us on Twitter @ChemCommun.