The latest citation data released by Thomson Reuters reveals that ChemComm's Impact Factor has risen once again this year to 6.718.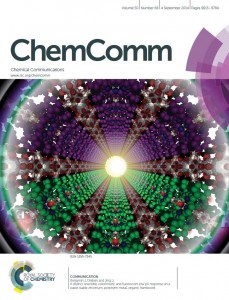 Coupled with fast publication times and great author service, these impressive trends underline the continuing success of ChemComm as the largest publisher of high quality communications within the general chemistry arena.  You can read some of our most highly cited articles listed below.
Thank you to all who have contributed to the journal's success so far – our authors, referees, readers and Editorial and Advisory Boards – we are very grateful for your support.
We invite you to submit your next urgent Communication to ChemComm.
Find out how other Royal Society of Chemistry journals are ranked in the latest Impact Factor release
Top cited ChemComm articles:
Feature Articles
Graphene quantum dots: emergent nanolights for bioimaging, sensors, catalysis and photovoltaic devices
Jianhua Shen, Yihua Zhu, Xiaoling Yang and Chunzhong Li
Diketopyrrolopyrrole (DPP)-based materials for organic photovoltaics
Sanyin Qu and He Tian
Enhancing the performances of Li-ion batteries by carbon-coating: present and future Huiqiao Li and Haoshen Zhou
Communications
One-step synthesis of amino-functionalized fluorescent carbon nanoparticles by hydrothermal carbonization of chitosan
Yunhua Yang, Jianghu Cui, Mingtao Zheng, Chaofan Hu, Shaozao Tan, Yong Xiao, Qu Yang and Yingliang Liu
Graphene-enveloped sulfur in a one pot reaction: a cathode with good coulombic efficiency and high practical sulfur content
Scott Evers and Linda F. Nazar
Carbon nanodots as fluorescence probes for rapid, sensitive, and label-free detection of Hg2+ and biothiols in complex matrices
Li Zhou, Youhui Lin, Zhenzhen Huang, Jinsong Ren and Xiaogang Qu
Hierarchical porous NiCo2O4 nanowires for high-rate supercapacitors
Hao Jiang, Jan Ma and Chunzhong Li
*The Impact Factor provides an indication of the average number of citations per paper. Produced annually, Impact Factors are calculated by dividing the number of citations in a year, by the number of citeable articles published in the preceding two years. Data based on 2013 Journal Citation Reports®, (Thomson Reuters, 2014).