From all of us here at Chemical Science, we would like to wish you a Happy Year of the Rabbit! In celebration we are delighted to present a special collection of our most popular recent articles, highlighting the work of authors from across China.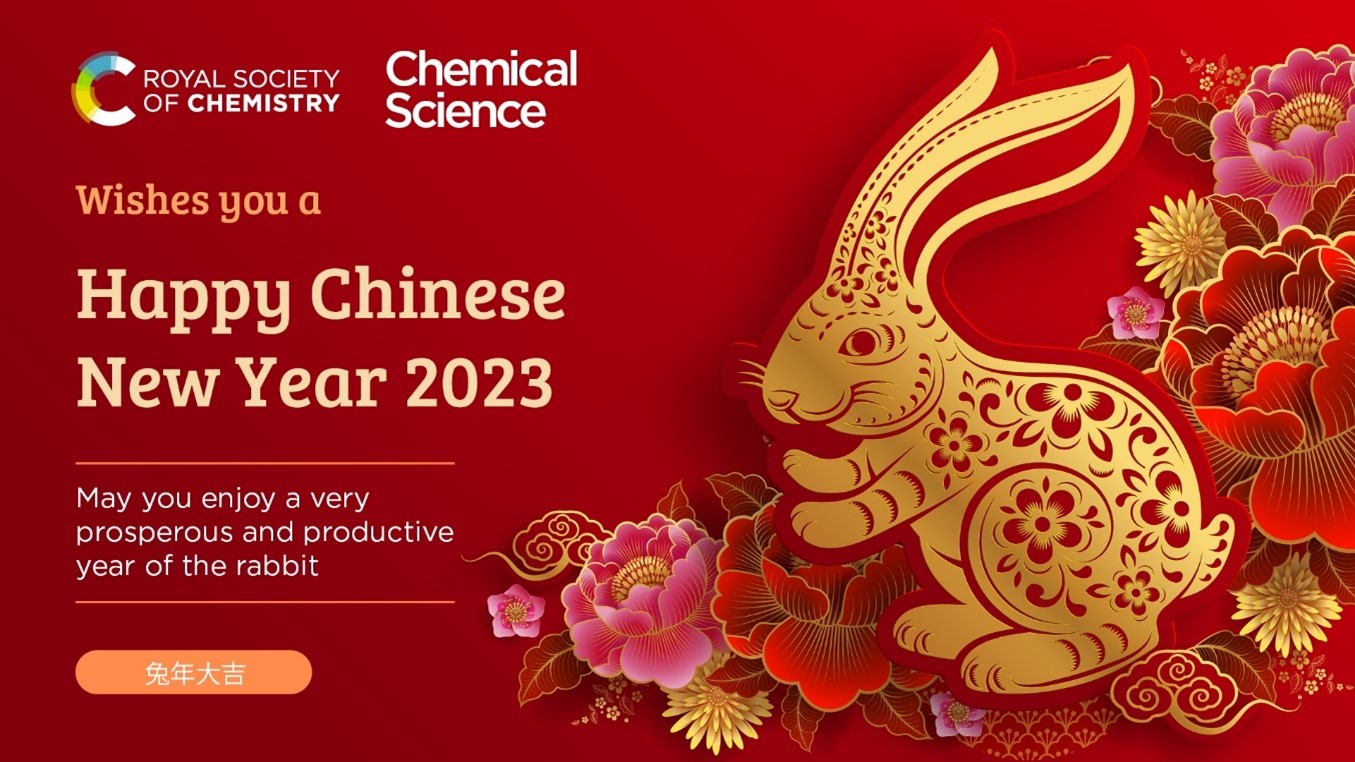 You can find the full collection here and we have highlighted a selection of these below.
Read our Chinese New Year collection here
We also have four dedicated Chinese Associate Editors: Prof. Jinlong Gong at Tianjin University, Prof. Zaiping Guo at the University of Adelaide, Prof. Ning Jiao at Peking University and Prof. Yi-Tao Long at Nanjing University.

Professor Gong is interested in heterogeneous catalysis and kinetics with a focus on catalytic conversions of small molecules, production of hydrogen energy, and syntheses and applications of nanostructured catalytic materials. Professor Guo's research interests include the design and application of electrode materials and electrolyte for energy storage and conversion, including rechargeable batteries, hydrogen storage, and fuel cells. Professor Jiao's current research efforts are focused on new methodology development in atom-incorporation reactions, first-row transition metal catalysis and inert chemical bonds functionalization, and the synthesis of bioactive compounds and drug discovery. Professor Long is interested in the development of new electrochemical measurement methods to reveal the characteristics and dynamics of single entities.
| | |
| --- | --- |
| | |
| Prof. Jinlong Gong | Prof. Zaiping Guo |
| | |
| Prof. Ning Jiao | Prof. Yi-Tao Long |
We are pleased to send along their best wishes to our authors, reviewers, and readers.

Prof. Jinlong Gong: 衷心感谢各位读者、作者、编委和朋友对Chemical Scienc

e的厚爱与支持,何其有幸,年岁并进!启一元复始,待四序更新,衷心祝福大家大展宏兔,兔步青云,奋发兔强,万事顺遂!

Prof. Zaiping Guo: 副主编郭再萍向大家拜年了,感谢作者,审稿人,以及读者朋

友们一直以来对Chemical Science的支持, 在兔年到来之际,我们衷心的期待与您的进一步合作,携手再创一个丰收的2023!祝大家新年快乐,身体健康,工作顺利,万事如意!

Prof. Ning Jiao: 感谢大家长期以来对 Chemical Science的支持和帮助!兔年就要到了,衷心祝愿所有关心 Chemical Science的朋友们新的一年大展宏"兔"、工作"兔"飞猛进!恭祝大家新春愉快!身体健康!阖家幸福!皆得所愿!

Prof. Yi-Tao Long: 感谢Chemical Science的读者、作者、编委及广大朋友的厚爱,新的一年我们将更加努力,期待大家的继续关注和支持。恭祝各位老师兔年吉祥,身体健康,万事如意!

Stay up to date with Chemical Science by signing up to receive news and issue alerts here

Chinese New Year Special Collection Highlights:

 

NIR TADF emitters and OLEDs: challenges, progress, and perspectives
Xiao, Yuxin; Wang, Hailan; Xie, Zongliang; Shen, Mingyao; Huang, Rongjuan; Miao, Yuchen; Liu, Guanyu; Yu, Tao; Huang, Wei
Chem. Sci., 2022, 13, 8906-8923
Review Article

Cu-catalyzed enantioselective decarboxylative cyanation via the synergistic merger of photocatalysis and electrochemistry
Yuan, Yin; Yang, Junfeng; Zhang, Junliang
Chem. Sci., 2022, 14, 705-710
Edge Article

Surfactant-chaperoned donor–acceptor–donor NIR-II dye strategy efficiently circumvents intermolecular aggregation to afford enhanced bioimaging contrast
Han, Tianyang; Wang, Yajun; Xu, Jiajun; Zhu, Ningning; Bai, Lang; Liu, Xiangping; Sun, Bin; Yu, Chenlong; Meng, Qinglun; Wang, Jiaqi; Su, Qi; Cai, Qing; Hettie, Kenneth S.; Zhang, Yuewei; Zhu, Shoujun; Yang, Bai
Chem. Sci., 2022, 14, 13201-13211
Edge Article

Exhaustive Baeyer–Villiger oxidation: a tailor-made post-polymerization modification to access challenging poly(vinyl acetate) copolymers
Ma, Pengfei; Plummer, Christopher M.; Luo, Wenjun; Pang, Jiyan; Chen, Yongming; Li, Le
Chem. Sci., 2022, 14, 11746-11754
Edge Article
We hope you enjoy reading this selection of articles from our collection celebrating the Chinese New Year.