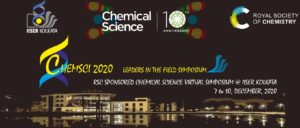 Over the past few days, the ChemSci2020 Symposium @ IISER Kolkata has been held (virtually). The Department of Chemical Science, IISER Kolkata organised the second edition of the RSC sponsored Chemical Science conference, ChemSci2020: Leaders in the Field Symposium. The symposium has included presentations by students and postdocs, and a twitter-based poster session.
We are pleased to announce below the winners of the poster session:
Materials Chemistry:
Debashree Roy – Seed-mediated Synthesis of Gold Nano-Earbuds
Navpreet Kamboj – A 10.8 V metal-free microsupercapacitor with highly stable laser-irradiated graphene electrode for integrated energy storage device
Sahanaz Parvin – An earth-abundant bimetallic catalyst coated metallic nanowire grown electrode with platinumlike pH-universal hydrogen evolution activity at high current density
Soumendu Roy – Surface Ligand Directed Nanoparticle Catalysis
Supramolecular Chemistry:
Anastasiia V. Sharko – Dissipative Non-Equilibrium Self-Assembly of Cyclic Peptide Nanotubes
Ayan Chatterjee – Complex Cascade Reaction Networks via Cross β Amyloid Nanotubes
Sk. Atiur Rahaman – Energy Relay Enhances Switching Efficiency in a Dendrimer-Azobenzene Supramolecular Assembly having an Anion-pi Motif
Synthetic Chemistry:
Kingshuk Mahanty – Manganese-Catalyzed Electrochemical Tandem Azidation-Coarctate Reaction: Facile Access to Azo-benzonitriles
Jyoti Dhankhar – Spatial Anion Control on Palladium for Mild C-H Arylation of Arenes
Soniya Rani – Stereoretentive and Enantioselective C–H Alkylation of Pyridines: Phosphite Catalyzed N to C Migration from N–Alkylpyridinium Salt
Satyadeep Waiba – Manganese catalyzed α-alkylation of ketones with secondary alcohols
Techniques in Chemistry:
Abinash Padhy – Amphiphilic Mannose-6-Phosphate Glycopolypeptide-Based Bioactive and Responsive Self-Assembled Nanostructures for Controlled and Targeted Lysosomal Cargo Delivery
Kushal Sengupta – A Single-Molecule Study of Two-Component System CusRS for Efficient Copper Homeostasis in E. coli
Theoretical Chemistry:
Abhishek Aggarwal – DNA versus RNA- which one conducts better?
Dhiman Ray – Free Energy Landscape and Conformational Kinetics of Hoogsteen Base Pairing in DNA vs RNA: Enhanced Sampling and Markov State Modeling
Congratulations, from all of us at Chemical Science!