We would like to wish a very warm welcome to our new Chemical Science Associate Editor Professor Shu-Li You!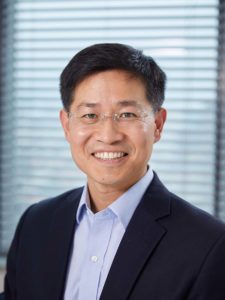 Professor Shu-Lli You was born in Henan, China, and received his BSc in chemistry from Nankai Univ. in 1996. He obtained his PhD from Shanghai Institute of Organic Chemistry (SIOC) in 2001 under the supervision of Prof. Lixin Dai before doing postdoctoral studies with Prof. Jeffery Kelly at The Scripps Research Institute. From 2004, he worked at the Genomics Institute of the Novartis Research Foundation as a PI before returning to SIOC as a Professor in 2006. He is currently appointed as the director of the State Key Laboratory of Organometallic Chemistry of SIOC, and the deputy director of SIOC.
His research interests mainly focus on asymmetric C-H functionalization and catalytic asymmetric dearomatization (CADA) reactions. He is a Fellow of the Royal Society of Chemistry, and the recipient of RSC Merck Award (2015) and Ho Leung Ho Lee Foundation Prize for Scientific and Technological Innovation (2016).
Browse a selection of Shu-Li's work below:
Chiral phosphoric acid-catalyzed asymmetric dearomatization reactions
Zi-Lei Xia, Qing-Feng Xu-Xu, Chao Zheng and Shu-Li You
Chem. Soc. Rev., 2020, 49, 286-300
DOI: C8CS00436F, Review Article
Catalytic asymmetric dearomatization (CADA) reaction-enabled total synthesis of indole-based natural products
Chao Zheng and Shu-Li You
Nat. Prod. Rep., 2019, 36, 1589-1605
DOI: C8NP00098K, Review Article
Palladium-catalyzed intermolecular allenylation reactions of 2,3-disubstituted indoles and allenyl carbonate
Yizhan Zhai, Shu-Li You and Shengming Ma
Org. Biomol. Chem., 2019, 17, 7128-7130
DOI: C9OB01435G, Communication
Highly efficient synthesis and stereoselective migration reactions of chiral five-membered aza-spiroindolenines: scope and mechanistic understanding
Qing-Feng Wu, Chao Zheng, Chun-Xiang Zhuo and Shu-Li You
Chem. Sci., 2016, 7, 4453-4459
DOI: C6SC00176A, Edge Article


Submit to Chemical Science today! Check out our author guidelines for information on our article types or find out more about the advantages of publishing in a Royal Society of Chemistry journal.
Keep up to date with our latest articles, reviews, collections & more by following us on Twitter. You can also keep informed by signing up to our E-Alerts.