We are delighted to announce Professor Daniel Nocera as the new Editor-in-Chief of Chemical Science. Daniel Nocera, the Patterson Rockwood Professor of Energy at Harvard University, has a diverse research programme and is recognised, internationally, as a pioneer and leading expert in the field of solar energy conversion.
Professor Nocera's group has recently accomplished a solar fuels process that captures many of the elements of photosynthesis – he has now translated this science to produce the artificial leaf. This exciting discovery sets the stage for a storage mechanism for the distributed deployment of solar energy.
As we thank Professor David MacMillan for his valuable contributions to Chemical Science since its launch in 2010, we extend a warm welcome to Professor Nocera as he leads the journal towards continued success and excellence.
Professor Nocera joins us in inviting you to read Chemical Science's first Open Access articles in Issue 1 for 2015 – one hundred cutting-edge articles showcasing exceptional research across the chemical sciences. For a limited time, these have been gathered under broad subject areas to show significant breakthroughs in each field: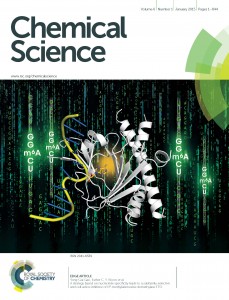 Chemical Biology and Medicinal Chemistry
Chemical Science is the Royal Society of Chemistry's flagship journal, publishing research articles of exceptional significance and high-impact reviews from across the chemical sciences. The journal's latest (2013) Impact Factor is 8.6. Research in Chemical Science is not only of the highest quality but also has excellent visibility; this is reflected in our latest citation profile.
Submit your exceptional research to Chemical Science today!