By combining hydrogen bonding and mechanical bonding, scientists in Spain have made a mechanically locked capsule that can encapsulate two oppositely charged ions.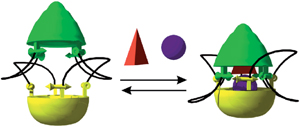 Pablo Ballester and Marco Chas, at the Institute of Chemical Research of Catalonia, Tarragona, made the capsule's two hemispheres out of a calix[4]pyrrole and a calix[4]arene. The calix[4]pyrrole uses hydrogen bond interactions to recognise anions or N-oxide  guests while the calix[4]arene provides efficient cation-π and CH-π interactions for co-encapsulated guests. The capsule can fit two neutral or oppositely charged guests and the encapsulation is reversible. 
If this has captured your attention, download Ballester's Chemical Science Edge article for free and read more.