Last week I attended the 6th International Symposium on Macrocyclic and Supramolecular Chemistry (6-ISMSC) in Brighton. It was an excellent conference in all aspects, with the exception of the 'nano-sized' lunches and my internet accessibility problems (hence the lack of on-site blogging from me).
For me, David Smith gave one of the stand-out oral presentations of the week. His plenary lecture, entitled 'The Power of Many – Hard Facts About Soft Matter', was a fascinating insight into organising soft matter systems and how he got involved in this area. Covering the experiment that changed his life, inspiration from trees, snail sex (I'm not joking), toughened paint and gene delivery, the lecture showcased David's gift for education, which he has also put to great use in a series of YouTube videos – well worth checking out. A very worthy winner of the 2011 Bob Hay Lectureship.
I was struck by the great sense of community and support for young supramolecular chemists at the conference. There were about 250 poster presentations, many by PhD students, and I was delighted to be able to award three poster prizes from the flagship general chemistry journals. Congratulations to the following students, whose outstanding contributions were praised by the poster prize selection committee: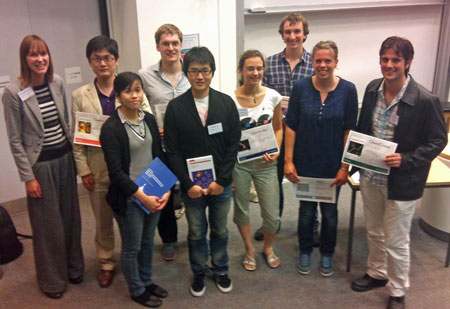 Winner of the Chemical Science poster prize
Qing-Fu Sun, University of Tokyo, Japan
Poster title: Virus-inspired multi-component self-assembly of molecular spheres
Winner of the ChemComm poster prize
Daniel Hutchinson, University of Otago, New Zealand
Poster title: Modified pyrimidine-hydrazone molecular strands for supramolecular actuation
Winner of the Chem Soc Rev poster prize
Cécile Roche, Université de Strasbourg, France, and University of Sydney, Australia
Poster title: Porphyrinic multirotaxanes: Towards a molecular press
Congratulations too to Jhenyi Wu (University of Edinburgh, UK), Graeme Spence (University of Oxford, UK) and Lena Kaufmann (FU Berlin, Germany) who won the OBC and two NJC poster prizes respectively. Choosing the poster prize winners was a very difficult task due to the extremely high quality overall – many thanks to David Smith and the rest of the poster prize selection committee for their time and effort.
Another high point was Amar Flood's Cram Lehn Pedersen prize lecture sponsored by ChemComm – see the ChemComm blog for more details.