UK chemists have moved a step closer to conquering a significant synthetic challenge by developing a C–H bond functionalisation reaction that can generate a diversity of molecular frameworks at room temperature.
A broad range of C–H transformations can be catalysed by a variety of transition metals at high temperatures. But Matthew Gaunt's group at the University of Cambridge aims to develop a synthetic toolbox comprising mild metal-catalysed C–H functionalisation reactions to make it easier to make complex molecules.
They investigated the reactions of β-arylethylamine, a motif commonly found in medicines and natural products. Attempts to catalytically transform the phenylalanine ethyl ester had previously failed but when the group introduced an aryl group onto the amine system, they were able to carbonylate, arylate and aminate the C–H bond. The reaction works on a variety of substrates and is tolerant of stereogenic centres and complex functionality.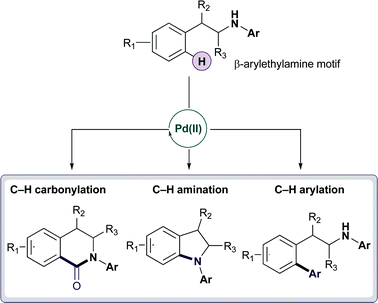 Find out more in Dr Gaunt's Edge article, now online and free to access.