The RSC Advances team are delighted to welcome Professor Stephen Ojwach as our newest Associate Editor!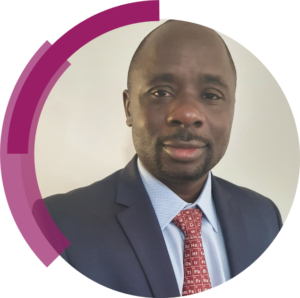 Professor Stephen Ojwach, University of KwaZulu-Natal, South Africa
Research Areas: organometallic chemistry, homogeneous catalysis, coordination chemistry, ligand design, transition metal chemistry, and green chemistry.

Prof Ojwach obtained his PhD in Organometallic Chemistry and Homogeneous Catalysis from the University of Johannesburg, South Africa under the supervision of Professor James Darkwa. Currently a professor of Inorganic Chemistry at the University of KwaZulu-Natal, South Africa, he is also a visiting professor at a number of institutions: the University of Lethbridge, Canada, RWTH Aachen University and Technical University of Kaiserslautern, Germany, and University of Strasbourg, France, among others.
Prof Ojwach has made exemplary contribution to the design and development of transition metal complexes as catalysts for various organic transformations, including, but not limited to, oligomerization, polymerization, carbonylation, and hydrogenation reactions. His research involves careful manipulation of ligand design to optimize the catalytic properties (Structure-Property-Activity-Relationship, SPAR) of complexes in given transformation. Kinetics, mechanistic and theoretical studies are undertaken to offer insights for rationale future catalyst designs.
Prof Ojwach has published over 100 research articles in the fields of inorganic chemistry, organometallic chemistry, and catalysis in a broad scope of journals such as RSC Advances, Dalton Transactions, Organometallics, Molecular Catalysis, and Inorganic Chemistry.
Check out Prof Ojwach's latest RSC publications!
Structural and ethylene oligomerization studies of chelating (imino)phenol Fe(ii), Co(ii) and Ni(ii) complexes: an experimental and theoretical approach
Makhosonke Ngcobo, Holliness Nose, Arumugam Jayamani and Stephen O. Ojwach
New J. Chem., 2022,46, 6219-6229
Carboxamide carbonyl-ruthenium(II) complexes: detailed structural and mechanistic studies in the transfer hydrogenation of ketones
Robert T. Kumah, Paranthaman Vijayan and Stephen O. Ojwach
New J. Chem., 2022,46, 3146-3155
Role of π-conjugation on the coordination behaviour, substitution kinetics, DNA/BSA interactions, and in vitro cytotoxicity of carboxamide palladium(II) complexes
Reinner O. Omondi, Nicole R. S. Sibuyi, Adewale O. Fadaka, Mervin Meyer, Deogratius Jaganyi and Stephen O. Ojwach.
Dalton Trans., 2021,50, 8127-8143


Prof Ojwach is looking forward to receiving your papers! Submit to RSC Advances today. Check out our author guidelines for information on our article types or find out more about the advantages of publishing in a Royal Society of Chemistry journal.
Keep up to date with our latest Popular Advances, Reviews, Collections & more by following us on Twitter. You can also keep informed by signing up to our E-Alerts.