We are very pleased to welcome Professors Camilla Abbehausen and Megan O'Mara to the RSC Advances team as Associate Editors today!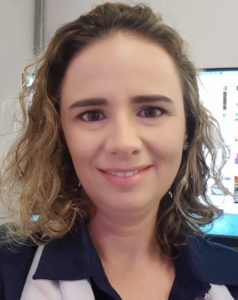 Camilla Abbehausen received her Bachelor's degree in Chemistry from the University of Campinas in 2003 and was honored by the Regional Chemistry Council Prize for Bachelors in the same year. Before diving into academics, she worked from 2002 – 2010 at Dow Corning Co. in the Application Development and Research department to develop health and personal care applications for silicone polymers. In 2007 she received an Application Services – Latin America award for the services developed. Camilla received a Master's degree in Inorganic Chemistry from the University of Campinas in 2009 and a Ph.D. from the same University in 2014. In a collaboration with Virginia Commonwealth University, under the supervision of Prof. Pedro Paulo Corbi and Prof. Nicholas Farrell, she studied the interaction of metal complexes with zinc finger domains and the development of metal-based antitumor, antiviral and antibacterial agents. Camilla was selected as Assistant Professor at the University of Campinas in 2015 and started a group on bioinorganic and medicinal inorganic chemistry. Camilla acted as a visiting professor at the Technical University of Munich (2020).
Her interests are the development of metal-based compounds for medical applications, especially in the interaction of these compounds with biomolecules and the studies of their mechanism of action. She is also studying metalloenzyme mechanism and inhibition, and developing novel methodologies for the synthesis of transition metal coordination compounds.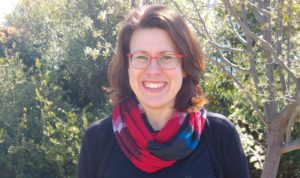 Megan O'Mara grew up in regional Queensland, Australia and is currently an Associate Professor at the Research School of Chemistry, Australian National University, Canberra, Australia. She was awarded her PhD (Physical Sciences) in 2005 from the Australian National University before undertaking postdoctoral training at the University of Calgary (Canada, Canadian Institutes of Health Research postdoctoral fellow) and at the University of Queensland (University of Queensland Postdoctoral Fellowship).
Megan's research is highly interdisciplinary and uses computational chemistry to understand the chemical basis of biomolecular interactions, focusing on lipid organization and dynamics, small molecule small molecule and drug interactions with membrane proteins and lipid membranes, and self-assembly processes in bio-inspired systems.
Browse a selection of Camilla & Megan's work published by the RSC:
Evaluation of cobalt complexes with tripod ligands for zinc finger targeting
Heiðar Mar Aðalsteinsson, Frederico A. Lima, Carolina Galuppo and Camilla Abbehausen
Dalton Trans., 2020, Advance Article
DOI: D0DT00067A, Paper
The influence of ZnII coordination sphere and chemical structure over the reactivity of metallo-β-lactamase model compounds
Eduardo Guimarães Ratier de Arruda, Bruno Alves Rocha, Manoel Victor Frutuoso Barrionuevo, Heiðar Már Aðalsteinsson, Flávia Elisa Galdino, Watson Loh, Frederico Alves Lima and Camilla Abbehausen
Dalton Trans., 2019, 48, 2900-2916
DOI: C8DT03905D, Paper
Aryl urea substituted fatty acids: a new class of protonophoric mitochondrial uncoupler that utilises a synthetic anion transporter
Tristan Rawling, Hugo MacDermott-Opeskin, Ariane Roseblade, Curtis Pazderka, Callum Clarke, Kirsi Bourget, Xin Wu, William Lewis, Benjamin Noble, Philip A. Gale, Megan L. O'Mara, Charles Cranfield and Michael Murray
Chem. Sci., 2020, Advance Article
DOI: D0SC02777D, Edge Article
Synthetically controlling dendrimer flexibility improves delivery of large plasmid DNA
Jessica A. Kretzmann, Diwei Ho, Cameron W. Evans, Janice H. C. Plani-Lam, Benjamin Garcia-Bloj, A. Elaaf Mohamed, Megan L. O'Mara, Ethan Ford, Dennis E. K. Tan, Ryan Lister, Pilar Blancafort, Marck Norret and K. Swaminathan Iyer
Chem. Sci., 2017, 8, 2923-2930
DOI: C7SC00097A, Edge Article


Submit your research or reviews to Camilla and Megan today, they will be delighted to receive them! See our author guidelines for information on our article types or find out more about the advantages of publishing in a Royal Society of Chemistry journal.
Keep up to date with our latest HOT articles, Reviews, Collections & more by following us on Twitter. You can also keep informed by signing up to our E-Alerts.