We are delighted to share with you our latest collection of recently published articles focusing on Liquid Crystals, handpicked by Associate Editor Dr Giacomo Saielli (Italian National Research Council and University of Padova).
Liquid Crystals (LCs) have been discovered serendipitously in 1888 by the botanist Friedrich Reinitzer. Their discovery sparked a great deal of debate during the first half of 1900 concerning their structural and dynamic properties and even their relationship with living organisms. They remained, however, mostly an academic curiosity until the second half of the last century when their possible application as displays became clear.
LC displays now represent a huge share of the display industry and many other applications based on LCs have been proposed and developed. At the same time, the LC science, mostly rooted in chemistry and physics but also touching mathematics, biology and engineering, has progressed significantly with new fields opening, e.g. ionic liquid crystals, polymeric liquid crystals, active matter systems, orienting phases for bio-NMR, LC-based membranes for separation. Moreover, new LC phases have been reported during the last recent decades renewing the scientific discussion on the fundamental properties and phase structure of these fascinating materials.
This themed collection highlights a series of papers published in the last two years concerning basic scientific investigations on LCs, from the synthesis of novel materials to structure-property relationships as well as applications in opto-electronic devices, thus attesting the breadth and vitality of the present research on liquid crystals.
As the world's largest gold open access chemistry journal, all publications in RSC Advances are free to access. We hope you enjoy reading these articles.
We invite you to submit your research to this collection and give your work the global visibility it deserves.
Featured articles:
Photo-controllable rotational motion of cholesteric liquid crystalline droplets in a dispersion system
Yota Sakai, Woon Yong Sohn and Kenji Katayama
RSC Adv., 2020, 10, 21191-21197. DOI: 10.1039/D0RA03465G
The role of intermolecular interactions in stabilizing the structure of the nematic twist-bend phase
Katarzyna Merkel, Barbara Loska, Chris Welch, Georg H. Mehl and Antoni Kocot
RSC Adv., 2021, 11, 2917-2925 DOI: 10.1039/D0RA10481G
Textile materials inspired by structural colour in nature
Celina Jones, Franz J. Wortmann, Helen F. Gleeson and  Stephen G. Yeates
RSC Adv., 2020, 10, 24362-24367 DOI: 10.1039/D0RA01326A
Meet the Editor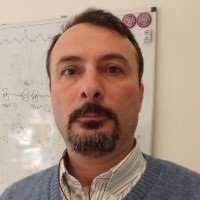 Dr. Giacomo Saielli is currently Senior Researcher at the CNR Institute on Membrane Technology, Padova Unit, and contract Professor of Chemistry at the University of Padova. After obtaining his Ph.D. in Chemistry at the University of Padova in 1999, he spent two years as a post-doc at the University of Southampton, UK. He then received a JSPS short fellowship for a post-doc at the National Institute of Advanced Industrial Science and Technology (AIST) in Tsukuba, Japan, in 2003. Moreover, he has been a visiting researcher at The Scripps Research Institute, La Jolla CA (2010); Lawrence Berkeley National Laboratory, Berkeley CA (2013); and PIFI visiting scientist (President's International Fellowship Initiative – Chinese Academy of Science) at the CAS Institute of Theoretical Physics in Beijing, in 2017. His research is mainly focussed on computational studies of ionic liquids, liquid crystals and computational spectroscopy.


About RSC Advances
As the world's largest gold open access journal dedicated to the chemical sciences, we are here for everyone who wants to publish quality chemistry research and share it with the world. Published by the Royal Society of Chemistry and led by active researchers, we publish work in all areas of chemistry and our low article processing charges, discounts and waivers make publishing open access achievable and sustainable. Learn more.
To keep up to date with the latest articles and other journal news, sign up to the e-alerts.