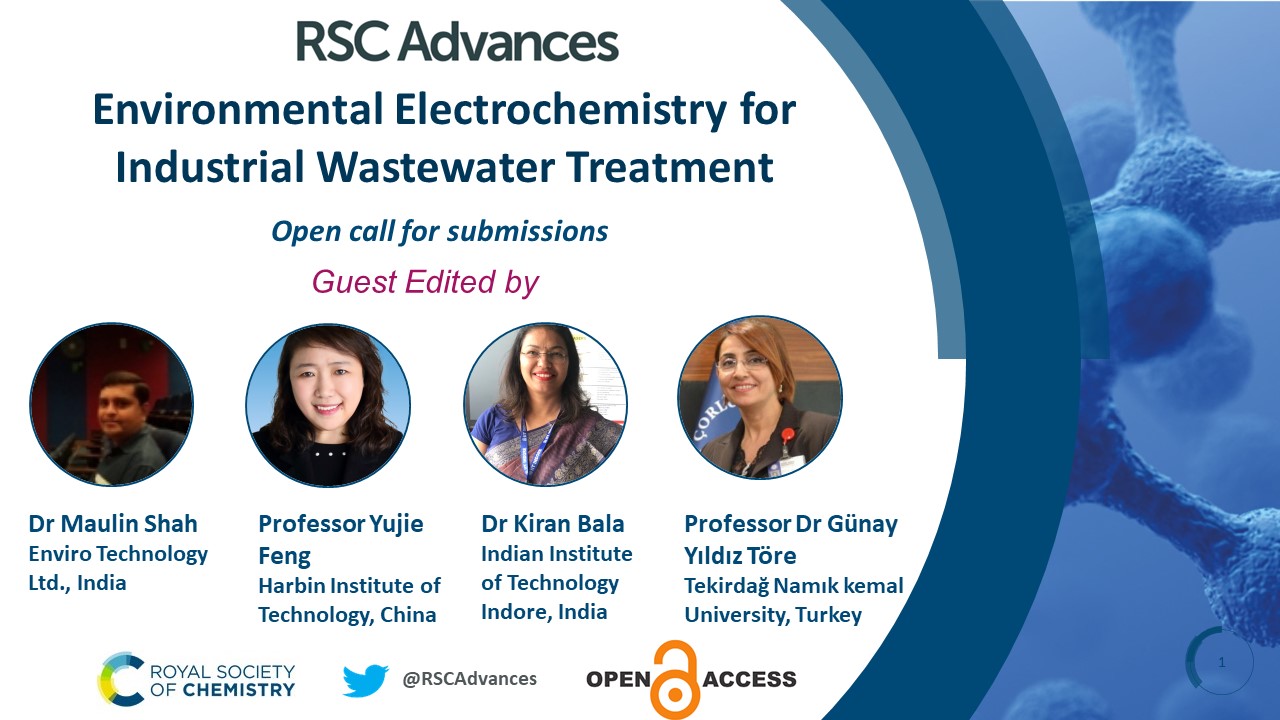 RSC Advances is delighted to announce 'Environmental Electrochemistry for Industrial Wastewater Treatment', a new themed collection. This collection is Guest Edited by Dr Maulin Shah (Enviro Technology Ltd., India), Professor Yujie Feng (Harbin Institute of Technology, China), Dr Kiran Bala (Indian Institute of Technology Indore, India) and Professor Dr Günay Yıldız Töre (Tekirdağ Namık Kemal University, Turkey).
Scope
In the present era, conventional wastewater treatment is facing the challenge of low pre and post treatment efficiency and hence it can be controlled with electrochemical based reactors. This themed collection aims to emphasise understanding the basics of electrochemistry and the way forward towards its application in environmental science and environmental bioremediation technology. It will include basics of environmental electrochemistry, redox reactions for contaminant removal and success stories of various electrochemistry-based techniques with microbial approach in the direction of practical wastewater degradation. With this collection we aim to stimulate new directions for environmental scientists and policymakers to work on advanced electrochemistry-based treatment systems and electrochemical sensor applications by overcoming the existing limitations. This collection will offer the way forward for electrochemically controlled bioreactors for refractory pollutant removal and monitoring purposes. Several successive technologies are key indicators for addressing the various aspects of environmental electrochemistry may be covered.
Topics include but are not limited to the following:
Advancement in bio electrochemical system for wastewater treatment and resource recovery
Role of electrochemistry and electrochemical techniques for environmental bioremediation
Electrochemical redox reactions for contaminant removal and valuable resource recovery from wastewater
Advances in microbial electrochemical technology
Advances of pilot scale electrochemical system for industrial wastewater treatment
Decomposition and transformation of refractory pollutants in bio electrochemical systems
The reaction mechanisms at the electrode-electrolyte interface
Developing and applying electrochemical sensors in treating industrial wastewater
Please make sure that your submission provides an insight that advances the chemistry field or is of interest to the chemistry community.
How to submit
Both Papers and Review articles will be considered for this issue. All submissions will be subject to an initial assessment by Associate Editors and, if suitable for the journal, they will be subject to rigorous peer review to meet the usual high standards of RSC Advances.
Our APC is among the lowest in the industry and there are no submission charges. Discounts and waivers are offered to authors from developing countries.
If you would like to submit to this issue the manuscript should be prepared according to our article guidelines and submitted via our online system anytime before the submission deadline of 21st of September 2023. During submission, authors will be asked if they are submitting for a themed collection and should include the name of the themed collection. If you would like to submit but require additional time to prepare your article, please do let us know by contacting the journal.

Submit to RSC Advances today! Check out our author guidelines for information on our article types or find out more about the advantages of publishing in a Royal Society of Chemistry journal.
Keep up to date with our latest Popular Advances, Reviews, Collections & more by following us on Twitter. You can also keep informed by signing up to our E-Alerts.