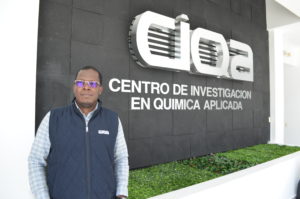 Claude St Thomas studied chemistry at the École Normale Supérieure, Université d'État d'Haïti, Port au Prince, Haïti. In 2008, he moved to Mexico where he obtained MSc and PhD degrees in polymer chemistry at the Centro de Investigación en Química Aplicada (CIQA) under the guidance of Dr. Ramiro Guerrero Santos. During his PhD studies, he undertook two research stays at the Laboratory of Chemistry and Processes of Polymerization (LCPP), in Lyon, France under the supervision of Prof Bernadette Charleux and Dr. Franck D'Agosto. He designed a novel dual RAFT/NMP chain transfer agent for a tandem polymerization and investigated its use for preparing the self-assembled nanoparticles. This investigation was awarded with the 2015 Rafael Illescas Frisbie prize from the Mexican Chemistry Society as the best PhD thesis. In the same year, he was promoted as a CONACYT research fellow at CIQA.
His research mainly focuses on the preparation of well-defined multiblock copolymers and the development of novel associative polymers featuring stimuli-responsive groups using reversible deactivation radical polymerization (RDRP) techniques. He is also interested in the rheological properties of polymers for applications in coatings, paints, enhanced oil recovery, and water treatment.
What was your inspiration in becoming a polymer chemist?
In my childhood, I was always fascinated by nature. At the beginning, I dreamed about becoming an agronomist. However, my interest for chemistry started in high school by the teachings from chemistry lecturer Sylvain Jean Desir. There, I understood that chemistry is the basis of life. During my MSc and PhD studies I worked with materials of common and daily use and a special interest for polymer chemistry started rising.
What was the motivation behind your most recent Polymer Chemistry article?
In our research group, scientific contributions related to the preparation of water-soluble copolymers have been previously published under the supervision of Dr. Enrique Javier Jiménez Regalado using free radical polymerization. In 2014, the "Consejo Nacional de Ciencía y Tecnología" (CONACYT, México) started a new program for addressing solutions to national problems, where young researchers were engaged and assigned to specific projects. Since, I started in my current position in 2015 and inspired by the versatility of the RAFT polymerization technique, my current research work focuses on the development of novel pathways for preparing well-defined water-soluble associative copolymers.
Inspired by the RDRP techniques and their feasibility for synthesizing polymeric materials with unprecedented properties, our recent contribution describes a new strategy for preparing environmentally-friendly water-soluble associative copolymers using the RAFT technique.
Which polymer scientist are you most inspired by?
A group of scientists have impacted my career. I appreciate the discipline, rigor and professional achievements of both Prof Bernadette Charleux and Dr. Franck D'Agosto. Fascinated by RDRP techniques, I am also inspired by three experts in RDRP: Prof Craig J. Hawker, Prof. San H. Thang and Prof. Krzysztof Matyjaszewski. Their publications describing processes for synthesizing polymers with specific characteristics might allow the use of these materials in different industrial applications.
Can you name some up and coming researchers who you think will have a big impact on the field of polymer chemistry?
Based on application areas of polymeric materials, it would be difficult to mention researchers who will have a big impact on the field. Notwithstanding, I select Dr. Francesco Picchioni (University of Groningen). His research on the development of chemical materials for application in Enhanced Oil Recovery (EOR) displays great interest and could impact the field. For these researches, I am also impressed by the research works of Dr. Michael F. Cunningham (Queens University) and Sébastien Perrier (University of Warwick)
How do you spend your spare time?
Outside of professional activities, I enjoy spending time with my family (wife and four year-old daughter-Nicole) and visiting natural places. My favorite sport is soccer, so I enjoy playing it with friends. I also enjoy playing guitar and reading about new scientific developments and culture.
What profession would you choose if you weren't a scientist?
Probably an agronomist due to my passion for natural sciences, because it was my first dream.
Read Claude's full article now for FREE until the 31st January!
---
We describe an efficient strategy for the preparation of hydrophobically associating multiblock copolymers using the RAFT technique. Polymerization reactions were carried out by a one-pot aqueous RAFT polymerization at 70 °C using a symmetrical trithiocarbonate as a chain transfer agent (CTA) in aqueous media. The macroRAFT polyacrylamide (PAM) was synthetized and chain extended by polymerization of N,N′-dihexylacrylamide (DHAM) and acrylamide (AM), respectively. The resultant polymers were intensely characterized by size exclusion chromatography (SEC), nuclear magnetic resonance (NMR) spectroscopy, diffusion-ordered spectroscopy (DOSY), Fourier transform-infrared (FT-IR) spectroscopy and rheology. The structure and insertion of a hydrophobic block (PDHAM) into the backbone were carefully demonstrated. The rheological measurements confirmed the effect of the hydrophobic block number on the viscosity of polymers at different concentrations and the formation of a reversible physical network of entangled polymers in aqueous media. Moreover, the incorporation of the hydrophobic block (PDHAM) was established by the oscillatory measurement.
---
About the Webwriter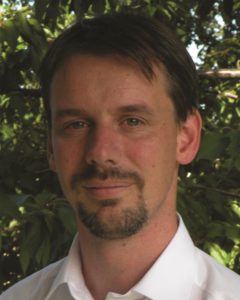 Simon Harrisson is a Chargé de Recherche at the Centre National de la Recherche Scientifique (CNRS), based at the Laboratoire de la Chimie des Polymères Organiques (LCPO) in Bordeaux. His research seeks to apply a fundamental understanding of polymerization kinetics and mechanisms to the development of new materials. He is an Advisory Board member for Polymer Chemistry. Follow him on Twitter @polyharrisson