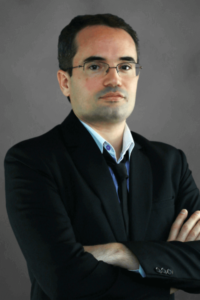 Daniel Crespy studied chemistry at the University of Strasbourg where he first came in contact with the field of heterophase polymerizations. He joined Professor Katharina Landfester in 2003 to complete a PhD in the University of Ulm where he developed novel methods to prepare nanocapsules in miniemulsion. In 2006, he held a position as project leader at Empa (Swiss Federal laboratories for Materials Research and Technology), working on stimuli-responsive materials for textile applications. He joined the department of Professor K. Landfester at the Max Planck Institute for Polymer Research (Mainz, Germany) in July 2009 as group leader. Since 2016, Daniel Crespy is an Associate Professor at the Vidyasirimedhi Institute of Science and Technology (VISTEC) in Rayong, Thailand.
What was your inspiration in becoming a polymer chemist?
Since childhood, I was fascinated by fireworks, paintings, and nature. I was interested in chemistry when I understood that movements and colors, as well as the emotions lived by the observer were produced by chemical reactions. I love chemistry because chemists can shape reality to create new materials adapted to our needs. In my view, polymer chemistry is particularly interesting because it encompasses all traditional fields of chemistry. I am definitively in debt to all the professors in chemistry and polymer science who were patient enough and enthusiastic to teach us the basics.
What was the motivation behind your most recent Polymer Chemistry article?
The aim was to create polymer nanoparticles that are decorated with cyclic carbonate groups. We demonstrated that these nanoparticles can be further functionalized with a large variety of molecules, including amino acids and proteins. The work was completed with my colleague Assist. Prof. Valerio D'Elia, who is specialist in converting CO2 to industrially important chemicals. The carbonate-functionalized particles were used as heterogeneous catalysts for carbonation reactions using CO2. Basically, we showed that a catalyst partially made from CO2 and other sustainable chemicals can be used to produce other useful chemicals from CO2. We believe that this paper will find an echo in the greater context of sustainable chemistry.
Which polymer scientist are you most inspired by?
I admire the professional achievements of Wallace Carothers who made significant contributions to both applied and fundamental research in polymer chemistry. Before my PhD studies, I was already following closely the work on heterophase polymerization of Mohamed El-Aasser, Katharina Landfester, Markus Antonietti, Klaus Tauer, Jose-Maria Asua, Bob Gilbert, Masayoshi Okubo, and Massimo Morbidelli. In parallel, I liked to read the contributions of Rolf Mulhaupt and Hans Rytger Kricheldorf on other topics of polymer chemistry. Working with Katharina Landfester had definitively a very large and positive impact on me, my working style, and my research so that I cannot be thankful enough towards her.
Can you name some up and coming polymer chemists who you think will have a big impact on the field?
I have too much respect for the work of other scientists to select people who will have a big impact on the field. We live in a time where spectacular papers are momentarily impactful but only time will truly select which contributions will stay in the classical textbooks of tomorrow. I can say that I am very impressed by the quality and quantity of talented polymer chemists from China, especially the scientists who tackle fundamental research. Finally, I do hope that my ex-students will have a big impact on the field in their future career.
How do you spend your spare time?
I am addicted to the positive sensation of collective achievement experienced when playing football. I also read a lot about Thai culture, which is for me both mysterious and fascinating. Finally, I am organizing an association to explain Thai students how to get scholarships from Germany to study in Germany.
What profession would you choose if you weren't a chemist?
I would be geneticist, who is a kind of polymer chemist but specialized in polynucleotides.
Read Daniel's recent Polymer Chemistry article now for FREE until 31st August!
---
Versatile functionalization of polymer nanoparticles with carbonate groups via hydroxyurethane linkages
Neha Yadav, Farzad Seidi, Silvano Del Gobbo, Valerio D'Elia* and Daniel Crespy*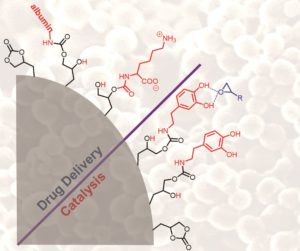 Synthesis of polymer nanoparticles bearing pendant cyclic carbonate moieties is carried out to explore their potential as versatile supports for biomedical applications and catalysis. Nanoparticles are produced by copolymerizing glycerol carbonate methacrylate with methyl methacrylate by the miniemulsion process. The ability of the nanoparticles to serve as carriers for biomolecules was studied by reacting them with various amines, amino acids, and proteins. The functionalized nanoparticles are systematically analyzed by Fourier transform infrared spectroscopy, solid state (SS) NMR spectroscopy, and X-ray photoelectron spectroscopy. Model studies are performed to investigate the reactivity of amino acids and albumin with the pendant carbonate groups. Functionalization of the nanoparticles with dopamine led to surface coverage with catechol groups as efficient heterogeneous hydrogen bond donors for the cycloaddition of CO2 to epoxides under atmospheric pressure
---
About the Webwriter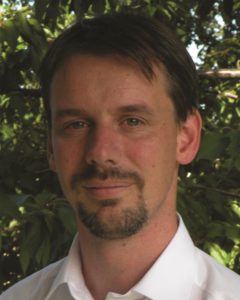 Simon Harrisson is a Chargé de Recherche at the Centre National de la Recherche Scientifique (CNRS), based in the Laboratoire des IMRCP in Toulouse. His research seeks to apply a fundamental understanding of polymerization kinetics and mechanisms to the development of new materials. He is an Advisory Board member for Polymer Chemistry. Follow him on Twitter @polyharrisson