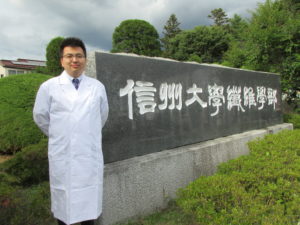 Yasuhiro Kohsaka is an Associate Professor in the Research Initiative for Supra-Materials (RISM) and the Faculty of Textile Science and Technology (FTST) at Shinshu University. He started his academic career as a JSPS Research Fellow in 2008 researching supramolecular polymer chemistry under the supervision of Prof. Toshikazu Takata at Tokyo Tech. From 2009 to 2010 he studied as a visiting student under Prof. Timothy Swager at MIT. He received his Ph. D. degree in Engineering at 2011 from Tokyo Tech. He worked as an Assistant Professor in Prof. Tatsuki Kitayama's group in Graduate School of Engineering Science at Osaka University. In 2015, he moved to FTST at Shinshu University as a Tenure-Track Assistant Professor supported by JST and established his own independent research group. He became an Associate Professor in 2018, and joined the RISM in 2019. Since 2019, he has started a new project on the design of new monomers and polymerization chemistry using synergetic effects of two or more functional groups. His research is always based on pure organic chemistry but proposed with practical application in mind. Therefore, he has interests in both polymer chemistry and material science. He was chosen as one of the Emerging Investigators of 2018 in Polymer Chemistry. Recently, he received a Young Researcher Award from the Society of Polymer Science, Japan (SPSJ) and the Society of Fiber Science and Technology, Japan (SFSTJ).
What was your inspiration in becoming a polymer chemist?
In childhood, my uncle often entertained me with plastic models of airplanes. This experience made me interested in science and technology. However, my favorite subjects were not chemistry but astronomy and earth science. Therefore, I attempted to join the astronomy club in the first year of middle high school, but the atmosphere was not comfortable for me. Then, my friend induced me to join chemistry club, where senior high school students were studying the synthesis of biodegradable plastics. This was my first introduction to polymer chemistry. In 2000, Prof. Hideki Shirakawa won the Nobel Prize in Chemistry for his discovery of conductive polymers. This news had a strong impact on me. I also learned that our daily life was supported by polymer materials, such as plastics, rubbers, fibers and adhesives. Then, I dreamed to develop new functional polymer materials like Prof. Shirakawa and change our life for the better. After that, I am striking out to my dream even now!
What was the motivation behind your most recent Polymer Chemistry article?
This is completely a kind of serendipity. Hemiacetal esters are interesting molecules, as they can be used for various purposes. The formation of a hemiacetal ester bond is reversible and thus it can be applied to dynamic covalent chemistry, while hemiacetal esters can also initiate living cationic polymerization of vinyl ethers. On the other hand, cyclic hemiacetal esters give two different types of polymers, polyesters and poly(hemiacetal ester)s, by ring-opening polymerization (ROP). Therefore, we have interests in the polymerization chemistry of cyclic hemiacetal esters containing polymerizable vinyl groups, as the monomers can undergo both ROP and vinyl polymerization and each product would have the respective potential application according to its residual groups. In our previous paper, therefore, we reported the vinyl polymerization of cyclic hemiacetal esters with acrylate skeleton (J. Polym. Sci. Part A: Polym. Chem. 2016, 54, 955). This monomer contains a hemiacetal ester skeleton, but we are also interested in cyclic ketene acetal esters, which provide hemiacetal ester skeletons by vinyl polymerization. That is, the vinyl polymerization changes the double bond to single bond forming a hemiacetal ester skeleton in the process. For this concept, we sought a cyclic ketene acetal ester in the database and found dehydroaspirin. Therefore, we never aimed to recycle vinyl polymers.
Which polymer scientist are you most inspired by?
Since I am interested in the principles of step-growth polymerization, Prof. Mitsuru Ueda's (NTU) early papers such as group-selective polycondensation and synthesis of regio-regular polymers always give me a good inspiration. As I conduct a project on ring-opening polymerization, I am also inspired by Prof. Marc Hillmyer (University of Minnesota).
Can you name some up and coming polymer chemists who you think will have a big impact on the field?
I respect Prof. Koji Takagi's (Nagoya Institute of Technology) energetic activity. He proposes unique and sophisticated approaches in polymer synthesis and collaborates with many young professors to advance his research. His molecular design is simple, but his deep insight and wide viewpoint present the importance of intelligence and dreams of polymer chemistry to our young generations. Speaking about our generations, my best friends, Prof. Hiroaki Imoto (Kyoto Institute of Technology), and Prof. Fumitaka Ishiwari (Tokyo Tech), my junior in school, are the closest but farthest researchers. Their motivation is very pure, and thus, the impacts of the completed results are always strong.
How do you spend your spare time?
As I work away from my family due to business reason, I enjoy driving home to spend the weekend with my wife and children. I like to play with my daughter (four years old) and son (two years old) with my children's mind. On weekdays, I play and watch Shogi, a Japanese traditional board game like a chess. The way of thinking in Shogi is similar to that in organic chemistry, as the construction and motion of cooperated pieces (atoms) are the keys to winning. I also like to watch sports, particularly baseball and Formula One (F1).
What profession would you choose if you weren't a chemist?
Earth scientist or astronomer, as they are my first dream in childhood. As it turns out, I am a natural scientist!
Read Yasuhiro's recent Polymer Chemistry article for FREE until 19th August!
---
Radical polymerization of 'dehydroaspirin' with the formation of a hemiacetal ester skeleton: a hint for recyclable vinyl polymers
Akane Kazama  and  Yasuhiro Kohsaka


A vinyl polymer with a cyclic hemiacetal ester skeleton was synthesized via the radical polymerization of 2-methylene-4H-benzo[d][1,3]dioxin-4-one (MBDO; so-called 'dehydroaspirin'). This material could be decomposed to acetic acid and salicylic acid (the raw ingredients for MBDO) by acid hydrolysis, and thus has potential as a recyclable vinyl polymer.
---
About the webwriter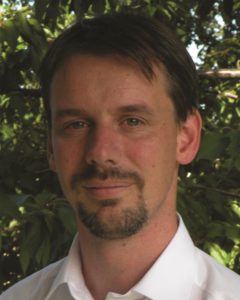 Simon Harrisson is a Chargé de Recherche at the Centre National de la Recherche Scientifique (CNRS), based in the Laboratoire des IMRCP in Toulouse. His research seeks to apply a fundamental understanding of polymerization kinetics and mechanisms to the development of new materials. He is an Advisory Board member for Polymer Chemistry. Follow him on Twitter @polyharrisson