Carbon dioxide constitutes a small amount of our atmosphere (currently around 0.04%) however it is vital for the survival of life on our planet. CO2 has been found to be a useful trigger for stimuli-responsive materials as it is benign, abundant, "green" and inexpensive. The reversible self-assembly of polymers and their response to the presence of CO2 has been of particular interest, for example in biomedical applications.
There is also a growing interest in carbon capture as environmental concerns increase, due to the rise in CO2 levels since the industrial age. Carbon capture has been proposed as a method to reduce the amount of CO2 in the atmosphere. Therefore several researchers have been interested in preparing materials which could be used absorb and store CO2 to remove it from the atmosphere.
This month we look at three articles published in Polymer Chemistry; two articles which describe CO2 responsive polymers, and one which investigates materials for CO2 absorption.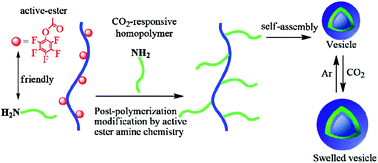 1. Oxygen and carbon dioxide dual gas-responsive homopolymers and diblock copolymers synthesized via RAFT polymerization
Xue Jiang, Feng Chun, Guolin Lu, Huang Xiaoyu
Polym. Chem., 2017, 8, 1163-1176; DOI: 10.1039/C6PY02004F
Firstly a monomer containing both O2 and CO2 responsive groups was prepared (containing a CF3 and tertiary amine group), and polymerised by reversible addition-fragmentation chain-transfer (RAFT) polymerisation. This polymer and a diblock copolymer containing PEG, showed responsivity when O2 and CO2 were bubbled through the solution compared with N2. The results suggest potential biomedical applications for the PEG containing polymer which formed micelles in solution.
2. CO2-Responsive graft copolymers: synthesis and characterization
Shaojian Lin, Anindita Das, Patrick Theato
Polym. Chem., 2017, 8, 1206-1216; DOI: 10.1039/C6PY01996J
Through a combination of controlled radical polymerisation and a grafting-to post-polymerisation modification, the authors describe the synthesis of CO2 responsive graft-copolymers, where the incorporation of a tertiary amine monomer imparts the CO2 responsive behaviour. The graft copolymers could be self-assembled to form vesicles in aqueous media, which swelled upon purging with CO2, for applications such as responsive drug delivery vehicles.
3. Microporous polyimide networks constructed through a two-step polymerization approach, and their carbon dioxide adsorption performance
Hongyan Yao, Na Zhang, Ningning Song, Kunzhi Shen, Pengfei Huo, Shiyang Zhu, Yunhe Zhang, Shaowei Guan
Polym. Chem., 2017, 8, 1298-1305; DOI: 10.1039/C6PY01814A
In contrast to the two previous articles, this paper reports the preparation of microporous polyimide networks, through polycondensation reaction and subsequent crosslinking. The formation of micropores was promoted due to the crosslinked structure, which restricted macromolecular conformational changes. The materials exhibited BET surface areas up to 497 m2g-1, with comparable CO2 uptake values to other microporous polyimides prepared from rigid tri-dimensional monomers.
Read these articles for free until April 16th
---
About the webwriter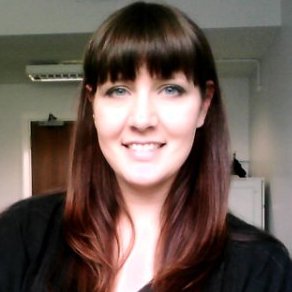 Dr. Fiona Hatton is a web writer for Polymer Chemistry. She is currently a postdoctoral researcher in the Armes group at the University of Sheffield, UK. Find her on Twitter: @fi_hat