Willersinn et al. report the synthesis of double hydrophilic pullulan and poly(acrylamide) block copolymers.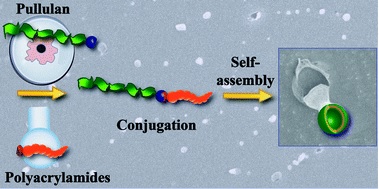 Double hydrophilic block copolymers (DHBC) self-assemble to various structures in aqueous solutions due to a strong difference in hydrophilicity. This is in contrast to amphiphilic block copolymers that self-assemble due to the insolubility of the hydrophobic block in water. In their recent contribution, Schmidt and co-workers were able to extend the principle of double hydrophilic self-assembly to novel polysaccharide-polyacrylamide block copolymers namely pullulan-b-poly(N,N-dimethylacrylamide) (Pull-b-PDMA) and pullulan-b-poly(N-ethylacrylamide) (Pull-b-PEA). The bio-derived pullulan block was obtained via acid catalyzed depolymerisation, while the polyacrylamide homopolymer blocks were synthesized via reversible addition-fragmentation chain-transfer (RAFT) polymerization. Subsequently the blocks were conjugated via copper catalyzed azide alkyne cycloaddition (CuAAC). The presence of formed vesicular structures was investigated via cryogenic electron microscopy (cryo SEM), static light scattering (SLS) and dynamic light scattering (DLS) measurements showing diameters in the range of 200 to 500 nm. Finally, laser confocal scanning microscopy (LSCM) was employed using Rhodamine B staining or Rhodamine B labelled block copolymers to image the formed particle structures. These novel vesicular structures may find use in a wide range of applications including drug delivery.


Tips/comments directly from the authors:
1. The synthesis of block copolymers via CuAAc can be significantly simplified via the utilization of azide functionalized resins. As described in the paper the alkyne functionalized building block is utilized in excess. The resin is added after sufficient reaction time directly to the reaction mixture to react with residual alkyne end functionalized polymer and finally the resin is easily removed via filtration after the reaction. Therefore, no optimization of equivalents or absolute molecular weight data is needed to obtain a pure product without homopolymer contamination.
2. The choice of blocks is crucial for DHBC self-assembly in water. The blocks have to feature a significant difference in hydrophilicity. Moreover, high polymer concentrations are needed to obtain self-assembled structures.
3. For a pure DHBC self-assembly the utilized blocks should not feature LCST or other stimulus responsive behaviour that alters the solubility of the individual blocks. Otherwise the self-assembly might be driven via hydrophobic interactions as with an amphiphilic block copolymer.


Read this exciting research for free until 16/04/2017 through a registered RSC account:
Vesicles of double hydrophilic pullulan and poly(acrylamide) block copolymers: a combination of synthetic- and bio-derived blocks
Polym. Chem., 2017,8, 1244-1254, DOI: 10.1039/c6py02212j
—————-
About the webwriter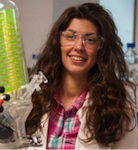 Dr. Athina Anastasaki is a web writer for Polymer Chemistry. She is currently a Global Marie Curie Fellow working alongside Professor Craig Hawker at the University of California, Santa Barbara (UCSB). Please visit this website for more information.