It is a fairly common assumption that the sample you are characterising is the same sample that you made at the lab bench. While it may indeed be the same sample, it may not be the same structure as Peter Stephens and Jagadese Vittal discovered.
By grinding coordination polymers with KBr (as is standard practise in solid state sample preparation for infrared characterisation), they generated coordination polymers with completely new structures – and as a result, completely different optical properties as well.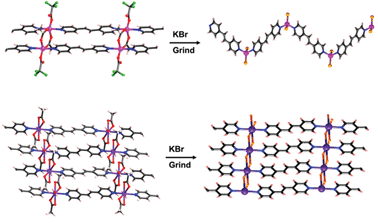 The team have attributed this to an exchange between the bridging ligands and the bromide ions from KBr. While this is an interesting avenue to explore for the preparation of new coordination polymers, Stephens and Vittal warn researchers working with such materials that observed changes in sample colour or texture during pre-characterisation preparation may not always be a physical phenomenon and to tread with caution…
Read the ChemComm article today.