Brian Lindley has reached an exciting ChemComm Milestone when he published his first independent research article in our journal. You can read Brian's #ChemComm1st article here: 'Unlocking metal coordination of diborylamides through ring constraints' Find out more about Brian in our interview with him below.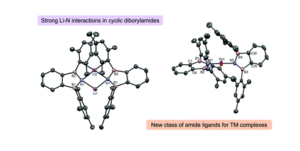 What are the main areas of research in your lab and what motivated you to take this direction?
The central aim of my research group is to explore the cooperative action of boronic ligands and 1st-row transition metals within the context of catalysis. In this research, I draw on the demonstrated versatility of metal-ligand cooperativity as a design element for enabling a broad range of stoichiometric and catalytic transformations. Inspired by the work of others who have successfully integrated the benefits of transition metal and main group chemistry, I set out to expand the chemical diversity of boron-containing ligand architectures for applications ranging from organic synthesis to energy conversion.
Can you set this article in a wider context?
Metal-ligand cooperativity is a compelling strategy for lowering barriers to chemical reactions, e.g. by having both the metal and ligand play active roles in bond-making and bond-breaking processes. This reduces the burden on the transition metal center, often providing distinct advantages over traditional inorganic reaction mechanisms. We are interested in further exploring this principle by synthesizing ligands featuring boron functionalities proximate to the transition metal binding site. We aim to exploit this strategic placement of Lewis acidic boranes for metal-boron cooperative reactivity. In this article, we synthesize a cyclic diborylamide ligand and explore its coordination chemistry with lithium and iron. This new ligand features two boron substituents adjacent the nitrogen donor atom, thus potentially serving as useful classes of ligands for future metal-ligand cooperative applications.
What do you hope your lab can achieve in the coming year?
In 2022, we aim to probe the effect of boron substitution on the bonding and reactivity of these new cyclic diborylamide compounds. Beyond the diborylamide project, we also hope to disclose our first findings in two distinct research projects that also center on the coordination chemistry of boron-containing ligands with transition metals.
Describe your journey to becoming an independent researcher.
Though I admittedly teetered between chemistry and chemical engineering as an undergraduate, my research experience with Prof. Rich Eisenberg at the University of Rochester inspired me to pursue a career in inorganic chemistry. Rich also provided invaluable guidance on the graduate school application process, which ultimately led me to join Prof. Pete Wolczanski's group at Cornell. The environment provided by Pete and his talented group of graduate students allowed me to think creatively about synthetic inorganic chemistry, thus laying the foundation for my independent career. I was fortunate to be offered a postdoctoral researcher position in Prof. Alex Miller's group at UNC-Chapel Hill, where I matured as a scientist and expanded my skillset to include electrochemical methods. Motivated by these experiences, which also fostered my passion for teaching and mentoring students, I decided to pursue my own independent career to explore new frontiers in transition metal and main group chemistry.
What is the best piece of advice you have ever been given?
The best advice I've received is probably to believe in my ideas. Though often easier said than done, this guidance is comforting, particularly when research is progressing slowly.
Why did you choose to publish in ChemComm?
ChemComm covers a broad range of research topics including fundamental advancements in main group and transition metal chemistry, thus making the journal a perfect fit for the present research article.
| | |
| --- | --- |
| | Brian M. Lindley received his BS in Chemistry in 2010 from the University of Rochester, where his research in Prof. Rich Eisenberg's lab centered on the synthesis of organic chromophores for light-driven, cobalt-catalyzed hydrogen evolution. Brian went on to receive his PhD in Chemistry in 2016 from Cornell University, where he studied metal-templated carbon-carbon bond forming reactions and Fe(IV) alkylidenes under the tutelage of Prof. Pete Wolczanski. Brian spent the next 3.5 years as a postdoctoral researcher in Prof. Alex Miller's group at UNC-Chapel Hill, where he studied the fundamental steps in a proposed electrochemical dinitrogen reduction scheme. In 2019, Brian joined the Department of Chemistry & Biochemistry at Baylor University as an assistant professor. Research in the Lindley Lab is centered on the development of fundamentally new classes of ligands for applications in 1st-row transition metal catalysis. |