We recently caught up with Imogen Riddell (University of Manchester) – our latest ChemComm Milestones author. We wanted to find out about Imogen's research and experiences as a first-time author in the interview below. You can now read Imogen's first independent research paper 'Self-assembly of a trigonal bipyramidal architecture with stabilisation of iron in three spin states' in our growing ChemComm1st collection.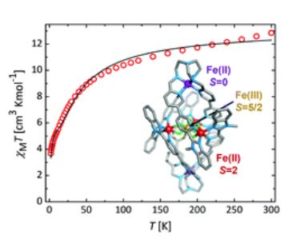 Our interview with Imogen

What are the main areas of research in your lab and what motivated you to take this direction?
I believe that research can be placed on a spectrum which spans fundamental research to application science, and I have been fortunate enough to get experience of both ends. My PhD research was focused on the fundamental science of self-assembling metal-organic systems, whereas my postdoctoral work at MIT focused on the application of metal complexes in cancer treatment. Now I run my own group, I aim to take the best of each approach and have focused on developing novel self-assembling metal-organic systems with targeted applications in catalysis, bio-imaging and molecular stabilisation.
Can you set this article in a wider context?
Nature has a knack for successfully exploiting metals for both structural and catalytic purposes, however the scientific community has yet to develop the same level of mastery. Recently, the supramolecular community has become skilled at using metals as structure-directing agents, but unfortunately, current strategies have left the metal unavailable for further reactivity; effectively inhibiting the potential for catalytic activity.
A first step to overcoming this is to understand how to control the spin states of metal ions in complex architectures. In our paper, we demonstrate the incorporation of iron ions in three different spin states within a single molecule, illustrating how relatively simple starting materials can generate highly sophisticated molecules with potentially interesting properties.
What do you hope your lab can achieve in the coming year?
Currently work in my lab is looking at systematically understanding how we can exploit asymmetry within ligands to generate supramolecular cages with complex, yet controllable, three-dimensional structures. We are hoping to build on the understanding we have gained from the work described in this paper to demonstrate applications for these structures ranging from stabilisation of catalytically active metal sites to isolation and stabilisation of biomolecules. The highlight of this year, however, will undoubtedly be the graduation of my first PhD student, Lauren, who is also the first author on this paper!
Describe your journey to becoming an independent researcher.
Following an undergraduate degree at the University of Strathclyde, I was thrilled to accept a PhD position at Cambridge University, but I had no idea of what academia entailed, and certainly no concept that I would ultimately accept a job within the system.
The first year of my PhD was tough, very little worked, but with the publication of my first paper and a change of topic everything changed. Ultimately, I loved the chemistry I worked on in my PhD and assigning complex NMR spectra and problem solving mass spectral fragments became a fun hobby, and one I was paid to do! As my PhD came towards its end I rather boldly decided to move countries and research topics, a decision which has ultimately benefited me but was challenging in the short term.
My postdoc at MIT, was a very different experience from my PhD research. Rather than unraveling supramolecular mysteries we were attempting to develop better anticancer agents. The objective here was clear, but the magnitude of the problem you were attempting to address was very apparent. The postdoc did however provide extensive opportunities to diversify my background and acquire new skills.
When I was ultimately offered an independent fellowship at the University of Manchester I was able to use the skills I learned in these different settings to navigate the turmoil of moving once again to a new institution and learning new processes. Now I have a research group consisting of four students and a postdoc, and sitting on the other side of the fence I occasionally recognise I may have given my previous supervisors a bit of hard time!
What is the best piece of advice you have ever been given?
The piece of advice I reflect most often on is 'consider your audience'. In essence who will read your text or watch your presentation, and what do they want to take from it. As scientists we become experts in particularly narrow subjects and can fixate on minor nuances which don't impact the bigger picture. Understanding how much of the detail is of interest to your audience is a skill which, when mastered, allows the general public, our friends, family and fellow scientists to better appreciate the work we do.
Why did you choose to publish in ChemComm?
ChemComm is a very readable journal, the communication format and the broad readership made it well suited to this work which contains aspects of both supramolecular chemistry and magnetism. Additionally, as ChemComm published my very first research paper I am particularly fond of the journal and over the past decade have been able to see how well cited ChemComms can be!
| | |
| --- | --- |
| | Imogen completed her PhD at the University of Cambridge working for Prof Jonathan Nitschke where she explored new strategies for self-assembly of metal-organic container molecules. She then undertook her postdoctoral training with Prof Steve Lippard at MIT where her research was directed at understanding the mechanisms of non-classical inorganic anticancer complexes. In 2017 she was awarded a University of Manchester Dame Kathleen Ollerenshaw Research Fellowship, followed by a Royal Society URF in 2018 which enabled her to start her own research program looking at the design and discovery of metal-organic materials for novel applications. |