A warm congratulations to Stefano Cinti for publishing his first independent research article in ChemComm. Be sure to read Stefano's #ChemComm1st article 'Merging office/filter paper-based tools for pre-concentring and detecting heavy metals in drinking water' in our collection, ChemComm Milestones – First Independent Articles.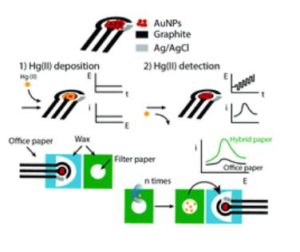 We recently caught up with Stefano to find out about his experience as a first-time author. Read about it in our interview below. 
What are the main areas of research in your lab and what motivated you to take this direction?
The main areas are biosensors, smart materials and sustainability. I think the combination of printing technologies and nanomaterials is capable of providing people with very useful analytical tools for improving life's quality.
Can you set this article in a wider context?
This article represents a general and simple approach for improving decentralized analysis and to strengthen the concept of citizen science.
What do you hope your lab can achieve in the coming year?
I hope my lab, the uninanobiosensors lab, would be able to generate smart solutions for everyone needs monitoring something, in all contexts.
Describe your journey to becoming an independent researcher.
I was fortunate to work in the laboratory of Prof. Palleschi and Prof. Moscone at University of Rome "Tor Vergata". They gave me all the fundamentals on biosensors and analytical chemistry, always supported me and allowed to spend time abroad. This gave me a wider, international perspective.
What is the best piece of advice you have ever been given?
I think the best advice has been given by observing my labmates at UCSD in the group of Joe Wang. I was a visiting PhD student, and it was clear that to make excellent research you just need your creativity and to work hard.
Why did you choose to publish in ChemComm?
It is a high-quality platform to highlight my research, and also I like the style of the journal.
| | |
| --- | --- |
| | Stefano Cinti is Assistant Professor at the Department of Pharmacy, University of Naples "Federico II". He obtained a PhD in Chemical Sciences in the group headed by Prof. Giuseppe Palleschi at University of "Tor Vergata". He leads the uninanobiosensors Lab (uninanobiosensors.com) and his research includes the development of Electrochemical (bio)sensors, Paper-Based devices, Nanomotors and Nanomaterials. He spent periods abroad in Finland, UK, USA, Germany and Spain. He published more than 45 papers on peer-reviewed journals, with H-index of 27, >2000 citations. In 2018 and 2019 he has been named Best Young Researcher in Bio-Analytical Chemistry and Analytical Chemistry, respectively (by Italian Chemical Society), and in 2020 he has been inserted in World's Top 2% Scientists. He is in the board of the Chemical Cultural Diffusion group and of the Young Group of Italian Chemical Society. He is the Chair of AMYC-BIOMED, a multi-disciplinary conference for young chemists in the biomedical sciences. He is active in communicating science to non-specialized audience through TV shows, radio and magazine. Find Stefano on Twitter: @S_Cinti87 |
Find more ChemComm Milestones news on our Twitter: @ChemCommun