We were really excited to speak to Erli Lu about his #ChemComm1st article 'A monomeric methyllithium complex: synthesis and structure'. This recently published Communication is available to read in our full collection ChemComm Milestones – First Independent Articles. It's also Open Access.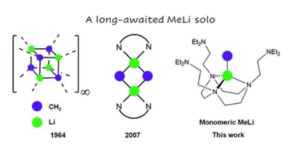 Find out about Erli and his research in our interview below.
What are the main areas of research in your lab and what motivated you to take this direction?
The main research area of my lab is group-1 and group-2 metal coordination chemistry, for example, lithium, sodium, potassium, magnesium and calcium. Since my PhD, I have studied coordination chemistry of some of the most obscure metals, such as rare-earth and actinide metals. Compared to them, group-1 and 2 metal coordination chemistry are thought to be 'well-established'. But actually, if looking closely, there are many knowledge gaps in this area. To fill these gaps, I set our research targets towards these 'familiar strangers'.
Can you set this article in a wider context?
This article is our first step to unveil the unknown face of some of the most common chemical reagents, in this case, organolithium reagents. Organolithium, for example, butyllithium, is arguably the most important organometallic reagents, and the parent of organometallic chemistry. The vital roles of organolithium in numerous organic reactions depend on their aggregates—they exist as oligomers but are postulated to react via the monomers. Chemists want to isolate the monomers, to understand the reaction mechanisms, but this is a formidable task: the monomers are super-reactive and very easy to decompose. In this article, we isolated the first monomer of the archetypical organolithium reagent: methyllithium.
What do you hope your lab can achieve in the coming year?
More exciting complexes, of course! And more papers, for sure! We hope to change an existing prejudice held by chemists that the group-1 and 2 chemistry are not as versatile as d-block and f-block metals, just because they have been studied for over a century.
Describe your journey to becoming an independent researcher.
I decided to pursue a research career since my 2nd PhD year—when I made my first important discovery (the first scandium terminal imide) in Yaofeng's group at SIOC. This work was published in ChemComm in 2010 and has inspired, influenced and encouraged me since then. The training of a coordination chemist is similar to a Jedi Knight for me: it's nearly impossible to succeed without a local guru's help and guidance. I was lucky to meet my two 'Jedi Masters': Prof. Yaofeng Chen and Prof. Steve Liddle, who helped me to grow into an independent researcher.
What is the best piece of advice you have ever been given?
'Grit teeth and carry on'—It is very often (maybe too often) easy to feel frustrated, if not desperate, in a research career. But persistence will be rewarded eventually.
Why did you choose to publish in ChemComm?
I have published 4 Communications in ChemComm, including some of my most important results. From my experience, the two biggest advantages of ChemComm against competitor journals are the rapid reviewing procedure and the professional editorial teams. The handling editors of ChemComm are active academics and do the research themselves—this is very important to ensure a fair and reasonable scientific judgement about a manuscript. Another reason to publish in ChemComm is supporting our local Chemical Society—though it is a less popular practice nowadays than before.
| | |
| --- | --- |
| | Erli Lu was born in Hefei, China, in 1984. His university degree (BEng) was awarded in 2006 by Tianjin Polytechnic University (China) in Polymer Material Science and Engineering. He joined Shanghai Institute of Organic Chemistry (SIOC), Chinese Academy of Sciences in 2006, studying rare-earth metal coordination chemistry in the Yaofeng Chen group and was awarded the PhD in 2012. In the same year, he moved to the UK as a postdoc researcher with an EU Marie Curie International Incoming Fellowship to join the Steve Liddle group at the University of Nottingham, investigating actinide coordination chemistry. He had stayed in the Liddle group at Nottingham and Manchester from 06.2012-09.2019, before starting his independent career at Newcastle University, as a Newcastle University Academic Track (NUAcT) Fellow. Erli's group at Newcastle investigates new aspects of group-1 & 2 metal coordination chemistry, including new highly reactive organolithium complexes, low-valent group-1/2 complexes, and their applications in catalysis and energy storage. Find Erli on Twitter: @erli_lu |
Enjoying #ChemCommMilestones? Follow all of the news and updates on our Twitter @ChemCommun.