ChemComm Milestones continues. This week, read the #ChemComm1st article from Jian-Ji Zhong: Photoinduced synthesis of fluorinated dibenz[b,e]azepines via radical triggered cyclization. As part of this feature, we spoke to Jian-Ji about his experience to becoming an independent researcher and why he chose to publish with ChemComm. More below.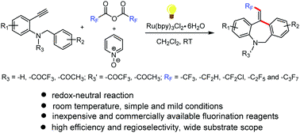 What are the main areas of research in your lab and what motivated you to take this direction?
My group was established in Shantou University in 2018 and we have great passion. Our research interest mainly focuses on organic photosynthesis, including 1) visible-light photocatalysis for the functionalization of carbon-carbon double bonds and carbon-carbon triple bonds, and 2) photocatalyst design. My early career training in photochemistry and nowadays the call for greener, more environmentally benign and sustainable development in chemical society are the main motivation for me to take this direction.
Can you set this article in a wider context?
Functionalization of carbon-carbon double bonds or carbon-carbon triple bonds is a powerful strategy to access important and valuable structure motifs existing in natural product, pharmaceuticals and biological active molecules. The target goal in our group is to synthesize the valuable molecules using green methodology. In this manuscript, we described a simple, efficient and green photochemical protocol for the functionalization of terminal alkynes to construct the valuable dibenz[b,e]azepine skeleton which is the core structure in antidepressants. Various fluorinated groups, which can impact the bioactive properties of these molecules, were successfully incorporated into the skeleton via radical triggered cyclization under simple and mild conditions (room temperature, visible-light irradiation). This protocol does not require harsh conditions such as stoichiometric oxidants or high temperature. Use of inexpensive and commercially available fluorinated reagents highlights the advantages of photocatalysis and the practicability of this protocol. This article greatly inspires us to continue in this research direction.
What do you hope your lab can achieve in the coming year?
It is a cool experience to publish my first independent research in ChemComm, which greatly strengthens our confidence to conquer more challenging tasks in the future. In the coming year, two goals I hope can be achieved are 1) more excellent students to join our passionate group; 2) more exciting research works to be accomplished.
Describe your journey to becoming an independent researcher.
It has not been an easy journey. I finished my undergraduate course in Lanzhou University in June 2010. Organic chemistry is the preponderant discipline in Lanzhou University, therein I acquired a solid foundation of knowledge about chemistry and got excellent experimental skills training. Then I was recommended to Prof. Li-Zhu Wu and Prof. Chen-Ho Tung's group in Technical Institute of Physics and Chemistry, CAS for my PhD studies. During my PhD, my research work mainly focused on the development of Cross-Coupling Hydrogen Evolution Reactions. To further improve myself, I joined Prof. Chi-Ming Che's group in Southern University of Science and Technology to start my postdoc research career in Oct. 2015. At that time, I was interested in designing new platinum(II) metal complexes as photocatalyst for organic transformations. After 12 year's expertise training and many people's support, especially my PhD and postdoc advisors, I started my independent research career in Shantou University in Jan 2018. Yet it is just the beginning: I will stay focused and keep learning on the road of scientific exploration.

What is the best piece of advice you have ever been given?
In my student career, my advisors always told me "simple is the best". It always reminds me to do subtraction other than doing addition for scientific research. It is the best piece of advice I have been given.
Why did you choose to publish in ChemComm?
ChemComm is a renowned journal with a broad readership in chemistry. And I like the quick turnaround time for submission of urgent work. That is why I chose ChemComm.


Dr. Jian-Ji Zhong's biography:
January 2018 – present: Associate Professor, Department of Chemistry, Shantou UniversityOct. 2015-Oct. 2018: Postdoc, Southern University of Science and Technology (Advisor: Prof. Chi-Ming Che)Sept. 2010-June 2015: PhD in Organic Chemistry, Technical Institute of Physics and Chemistry, CAS (Advisors: Prof. Li-Zhu Wu and Prof. Chen-Ho Tung)

Sept. 2006-June 2010: Bachelor of Science in Chemistry, Lanzhou University