We're celebrating researchers who published their first independent article with ChemComm. Dr Han Xiao published his first article in 2018: A noncanonical amino acid-based relay system for site-specific protein labeling. We wanted to find out more about Han and his research – Read more below.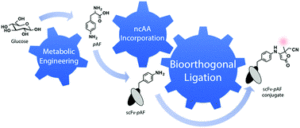 What are the main areas of research in your lab and how has your research progressed since publishing your first article?
Understanding complex biological systems and developing novel therapeutic approaches requires explorations at the interface of chemistry and biology. The focus of our research is the development of various chemical tools that allow us to precisely probe and manipulate biological systems. We are interested in (1) adding new building blocks with novel chemical, biological, and physical properties into different biological systems; (2) enhancing the performance of chemical biological tools for a variety of applications; (3) using these tools to better understand and ultimately control various biological processes; and (4) exploring the therapeutic utilities of these tools in the context of cancer, autoimmune, and metabolic diseases. My program has a strong translational focus, seeking to initiate new clinical opportunities, and contribute to advances in chemical biology, glycobiology, and cancer immunology.
Our article demonstrates the first application of autonomous cells with the endogenous ability to biosynthesize different noncanonical amino acids and incorporate them into proteins. Noncanonical amino acid, p-amino-phenylalanine, was biosynthesized in E. coli, followed by site-specific incorporation into a specific protein residue. The resulting protein was ready for functionalization using an oxidative conjugation reaction. We are continuing cells utilizing a 21st amino acid and further examine their utility in protein evolution and therapy development.

What do you hope your lab can achieve in the coming year?
Although I have been building my independent research profile at Rice, I am actively exploring new research directions by collaborating with researchers in different fields. I hope we can tell you more of these exciting works in the coming year.

Describe your journey to becoming independent researcher.
My academic training and research experience have provided me with a broad background in multiple disciplines, which is critical for me to build up my independent research program. As an undergraduate, I supported Dr. Liu-Zhu Gong's group (USTC) by developing flexible routes to synthesize chiral amines in alkaloid nature products. As a graduate student, I joined Dr. Peter G. Schultz's lab at the Scripps Research Institute (TSRI). My graduate work was mainly focused on expanding the technique of genetically incorporating noncanonical amino acids in both prokaryotic and eukaryotic organisms and applying this technique for better cancer therapeutics. To further my goal of becoming a professional scientist, I started my post-doctoral research career in Prof. Carolyn R. Bertozzi's laboratory at Stanford University, whose lab has extensive experience in studying cancer-associated glycosylation. I learned a lot from my previous advisors about how to carry out projects as well as run a lab. The different training experiences from these labs laid the foundation for the interdisciplinary program I would like to build up at Rice University.

What is the best piece of advice you have ever been given?
The best advice was given to me by my parents: Prepare for the Future.

Why did you choose to publish your first article in ChemComm?
ChemComm is a renowned journal with a large readership from all chemistry disciplines as well as interdisciplinary fields. I am very happy to publish our first work in ChemComm.

Biography
Han Xiao is an Assistant Professor of Chemistry and Biosciences at Rice University. Han obtained his undergraduate degree from the University of Science and Technology of China (USTC) where he graduated with a B.S. in chemistry and an honors degree in physical science. He conducted undergraduate research in Prof. Liu-Zhu Gong's group, focusing on organic methodology and synthesis of natural products. After graduating from USTC in 2010, Han joined the Ph.D. program at the Scripps Research Institute (TSRI). His thesis work with Prof. Peter G. Schultz focused on expanding the technique of genetically incorporating unnatural amino acids in both prokaryotic and eukaryotic organisms and applying this technique for better cancer therapeutics. In 2015, Han joined the laboratory of Prof. Carolyn R. Bertozzi as a Good Ventures Postdoctoral Fellow of the Life Science Research Foundation at Stanford University. In his postdoctoral work, he was engaged in the development of novel cancer immune therapy targeting the cell-surface glycans axis of immune modulation. In July 2017, Han started his independent research at Rice University. Find him on Twitter: @Han_Xiao2016