The introduction of chirality into Metal Organic Frameworks (MOFs) produces the possibility of them being used as solid supports for chiral chromatography. This chirality can be introduced through the use of pillar[5]arene struts where the pendant functional groups can be controlled to alter the overall properties. However, the incorporation of planar chirality into homochiral MOFs is a relatively unexplored phenomenon.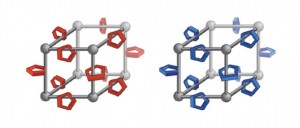 Homochiral MOFs which contain enantiopure active domains
In this Communication Fraser Stoddart, from Northwestern University, and his team report the production of homochiral MOFs which contain enantiopure pillar[5]arene active domains. This required the development of an efficient route to the large-scale production of racemic pillar[5]arene derivatives. However, to discover the secret you will have to read the ChemComm article – access is free* for a limited time only!
To read the details, check out the Chem Comm article in full:
Enantiopure pillar[5]arene active domains within a homochiral metal-organic framework
Nathan L. Strutt, Huacheng Zhang and J. Fraser Stoddart
DOI: 10.1039/C4CC02559H

Interested in MOFs? Why not take a look our Chem Soc Rev MOFs Web collection – reviews are added to this collection as and when they are published.
*Access is free through a registered RSC account – click here to register