Congratulations to Dr Oren Scherman from the University of Cambridge, UK, winner of the 2014 Cram Lehn Pedersen Prize.
The annual prize, named in honour of the winners of the 1987 Nobel Prize in Chemistry, recognises significant, original and independent work by emerging investigators in supramolecular chemistry.
Scherman will receive a prize of £2000 and free registration for the 12th ISMSC meeting in Crystal City, Virginia. In addition to giving a lecture at ISMSC, a short lecture tour will be organised after the meeting in consultation with the Editor of Chemical Communications, the sponsor of the award.
"Dr. Sherman has advanced our thinking on supramolecular self-assembly of polymers in water. He has discovered new routes to use molecular recognition to synthesize hydrogels." says Professor Roger Harrison, Associate Professor at Brigham Young University and Secretary of the ISMSC International Scientific Committee.  He adds, "his introduction of supramolecular handcuffing, where two molecules are brought together by supramolecular forces, gives scientists control to selectively make complex structures."
Last year, the Cram Lehn Pedersen Prize was awarded to Professor Tomoki Ogoshi, from Kanazawa University in Japan.
Find out more about Dr Scherman's research by reading his recent research in ChemComm: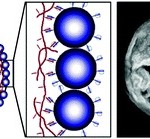 Supramolecular colloidosomes: fabrication, characterisation and triggered release of cargo
Godwin Stephenson, Richard M. Parker, Yang Lan, Ziyi Yu, Oren A. Scherman and Chris Abell
DOI: 10.1039/C4CC01479K
Check out the ChemComm web collection dedicated to Polymer Self-Assembly – articles are continuously being added to this collection.