We know the importance of water in protein folding but what about organic solvent effects in self-assembling structures?
A team of scientists from the Netherlands decided to find out what happens to the supramolecular structure of deuterated benzene tricarboxamide (D-BTA) when the molecular structure of the organic solvent is changed. You may not think that swapping methylcyclohexane for heptane may make much difference – both are non-polar with similar properties. Think again.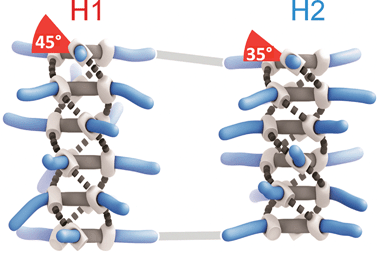 D-BTA conformers exhibiting M helicity
Paul van der Schoot, Bert Meijer, Anja Palmans and their team discovered that substitution of one solvent for another was enough to influence the helical sense preference and conformation of D-BTA supramolecular polymers. It seems that linear solvents, such as heptane used here, actively participate in the self-assembly of the D-BTA units, causing the supramolecular aggregates to favour one helicity over the other, whereas solvents with branched or cyclic molecular structures do not permit such solvent–molecule interactions.
Once again, chemistry shows us that the smallest of changes on the molecular scale can influence more than first thought.
Keep an eye out for many more chirality-related articles to come as part of our forthcoming Chirality web theme issue. To read more about Palmans and colleagues' findings, download the ChemComm article.