It's 2012 and avid readers of our blog will know that the number 100 is very important to ChemComm this year.
This is the first year ChemComm will publish 100 issues  but did you know it is also 100 years since Max von Laue's first X-ray diffraction experiment?
Max von Laue was a Professor of Physics at the University of Munich in Germany and he used copper sulfate as a 3D diffraction grating for X-rays. The field developed rapidly after this pioneering work and today X-ray diffraction is a commonly used technique for revealing information about the structure of materials.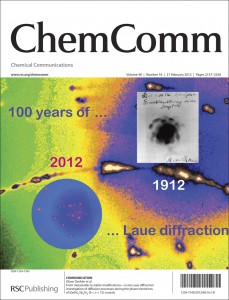 The anniversary of Laue diffraction has been highlighted on the cover of ChemComm issue 16 by Oliver Oeckler and colleagues, who report their recent use of Laue diffraction in the issue. More specifically, they used in situ microfocus Laue diffraction to investigate temperature-dependent phase transitions of GeTe-rich compounds. Find out what they discovered by downloading their communication.