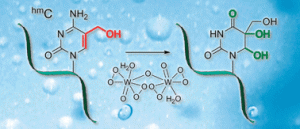 A simple method for detecting a natural nucleobase in DNA could revolutionise epigenetic studies, say Japanese scientists.
5-Hydroxymethylcytosine is abundant in neuron cells and embryonic stem cells and plays a critical role in epigenetic regulation. Scientists are eager for a way to detect it, to help them understand how gene function is initialised.
The team discovered that peroxotungstate can detect 5-hydroxymethylcytosine by oxidising it to a thymine derivative, which can be visualised using gel electrophoresis.
Download the ChemComm article today to find out more.