Chemists working at Ruhr-University Bochum in Germany have for the first time studied the host–guest chemistry of organometallic complexes with covalent organic frameworks (COVs).
COVs are the organic analogues of metal–organic frameworks (MOFs) and are made up of strong organic covalent bonds to form large organic polymers. They have a crystalline  structure and have attracted a lot of attention due to their possible applications in gas storage, sensing and catalysis. To date, only the  host–guest chemistry of small gas molecules such as CO2 and H2 have been studied in COVs. The team in Germany, led by Roland A. Fischer, set about changing this and demonstrated the use of organometallic molecules as guests.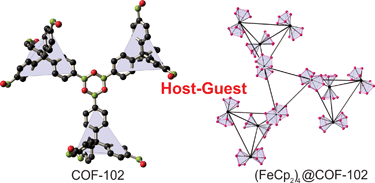 Using COF-102 as the host, the team looked at the adsorption of FeCp2 , CoCp2 and [Ru(cod)(cot)] within the framework. They found that FeCp2 remained intact within the framework and that it assumed a structure reminscent of the host via π–π interactions.  Overall, the work displayed the similarity between COVs and MOFS as hosts for metal complexes.
If you are interested in finding out more on this hot area then why not download the full ChemComm article for free today?