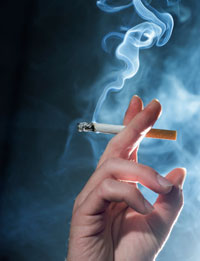 Chinese researchers have shown for the first time that nanomaterials made from titanium dioxide (TiO2) can be used in cigarette filters to significantly reduce the amount of harmful chemicals inhaled by smokers. They say it offers a cheaper and safer alternative than using carbon-based nanomaterials and show potential for use in other filtering devices including gas masks and air purification systems. 
Current cigarette filters are made from cellulose acetate, which absorbs some of the toxic and carcinogenic compounds present in tobacco smoke, including tar, nicotine, polycyclic aromatic hydrocarbons and tobacco-specific nitrosamines. In recent years, scientists have attempted to improve standard filters by adding nanomaterials, including carbon nanotubes or mesoporous silica, to capture more of these chemicals. But these experimental methods remain expensive and could pose unknown health risks. 
Now, Mingdeng Wei's lab at Fuzhou University in Fujian province, together with colleagues at the Fujian Tobacco Industrial Corporation, Xiamen, have found that titanate nanosheets and nanotubes can filter tobacco smoke. 'A great range of harmful compounds including tar, nicotine, ammonia, hydrogen cyanide, selected carbonyls and phenolic compounds can be reduced efficiently,' says Wei.