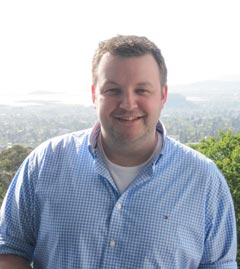 On behalf of the ChemComm Editorial Board, I am delighted to announce that Dr Scott Dalgarno (Heriot Watt University, Edinburgh, UK) has won the inaugural ChemComm Emerging Investigator Lectureship.
This annual award recognises an emerging scientist in the early stages of their independent academic career. The Editorial Board commended Dr Dalgarno's contributions to the field of supramolecular chemistry, in particular the assembly and properties of calixarenes.  
Dr Dalgarno will present his award lecture, entitled 'Metal-Organic Calixarene Assemblies', at the following locations:
For more details about these lectures, please contact ChemComm Editor, Robert Eagling.
To find out more about Dr Dalgarno's research, read these recent ChemComm articles:
Calix[4]arene supported clusters: a dimer of [MnIIIMnII] dimers
Stephanie M. Taylor, Ruaraidh D. McIntosh, Christine M. Beavers, Simon J. Teat, Stergios Piligkos, Scott J. Dalgarno and Euan K. Brechin, Chem. Commun., 2011, 47, 1440-1442
Calixarene supported enneanuclear Cu(II) clusters
Georgios Karotsis, Stuart Kennedy, Scott J. Dalgarno and Euan K. Brechin, Chem. Commun., 2010, 46, 3884-3886
Magnetism in metal–organic capsules
Jerry L. Atwood, Euan K. Brechin, Scott J. Dalgarno, Ross Inglis, Leigh F. Jones, Andrew Mossine, Martin J. Paterson, Nicholas P. Power and Simon J. Teat, Chem. Commun., 2010, 46, 3484-3486