We wish a very warm welcome to our new Chemical Science Associate Editor Theresa M. Reineke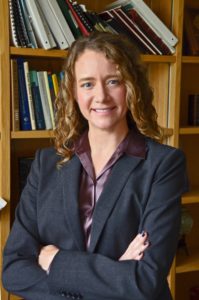 Theresa was born in St. Paul, Minnesota and received a B. S. Degree from the University of Wisconsin-Eau Claire, M.S. from Arizona State University, and Ph.D. from the University of Michigan working with Prof. Omar Yaghi.  She then completed a National Institutes of Health Postdoctoral Fellowship at the California Institute of Technology working with Prof. Mark Davis. She has held independent faculty positions at the University of Cincinnati, Virginia Tech, and in 2011 joined the University of Minnesota, where she is a Distinguished McKnight University Professor in the Department of Chemistry. She also holds graduate faculty appointments in the Departments of Chemical Engineering and Materials Science as well as Pharmaceutics. Her research interests lie in the fields of fundamental monomer and polymer synthesis and degradation, understanding structural ordering and directing molecular interactions of macromolecules with biological systems, and understanding fundamental physicochemical and biological properties of polymeric materials. Her group is focused on enabling fundamental chemical and applied technology advancements of polymers for sustainability, drug delivery, and gene/cell therapy and genome editing. In recognition of her group's research, she has received the 2017 Carl S. Marvel Creative Polymer Chemistry Award from the ACS POLY Division, the 2018 DuPont Nutrition and Health Sciences Excellence Medal, and a 2022 Arthur C. Cope Scholar Award from the ACS, among many others. Prior to joining Chemical Science in 2022, she was a founding Associate Editor of ACS Macro Letters 2011-2022.
Browse a selection of Theresa's work below: 
Stereoregular functionalized polysaccharides via cationic ring-opening polymerization of biomass-derived levoglucosan
Mayuri K. Porwal, Yernaidu Reddi, Derek J. Saxon, Christopher J. Cramer, Christopher J. Ellison and Theresa M. Reineke
Chem. Sci., 2022,13, 4512-4522
Ring opening polymerization of β-acetoxy-δ-methylvalerolactone, a triacetic acid lactone derivative
Hussnain Sajjad, Emily A. Prebihalo, William B. Tolman and Theresa M. Reineke
Polym. Chem., 2021,12, 6724-6730
Facile synthesis of GalNAc monomers and block polycations for hepatocyte gene delivery
Matthew R. Bockman, Rishad J. Dalal, Ramya Kumar and Theresa M. Reineke
Polym. Chem., 2021,12, 4063-4071
Tuning PNIPAm self-assembly and thermoresponse: roles of hydrophobic end-groups and hydrophilic comonomer
Monica L. Ohnsorg, jeffrey M. Ting, Seamus D. Jones, Seyoung Jung, Frank S. Bates and Theresa M. Reineke
Polym. Chem., 2019,10, 3469-3479
Sustainable advances in SLA/DLP 3D printing materials and processes
Erin M. Maines, Mayuri K. Porwal, Christopher J. Ellison and Theresa M. Reineke
Green Chem., 2021,23, 6863-6897
Optimizing linear polymer affinity agent properties for surface-enhanced Raman scattering detection of aflatoxin B1
Victoria M. Szlag, Rebeca S. Rodriguez, Seyoung Jung, Marc R. Bourgeois, Samuel Bryson, Anatolii Purchel, George C. Schatz, Christy L. Haynes and Theresa M. Reineke
Mol. Syst. Des. Eng., 2019,4, 1019-1031

Submit to Chemical Science today! Check out our author guidelines for information on our article types or find out more about the advantages of publishing in a Royal Society of Chemistry journal.
Keep up to date with our latest articles, reviews, collections & more by following us on Twitter. You can also keep informed by signing up to our E-Alerts.