We wish a very warm welcome to our new Chemical Science Associate Editor Zaiping Guo!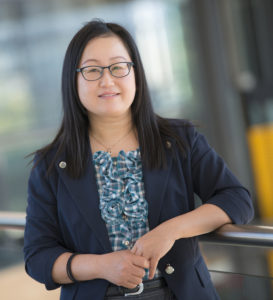 We are pleased to welcome Professor Zaiping Guo to the Chemical Science Editorial Board this month as a new Associate Editor for the journal.
Zaiping is an ARC Australian Laureate Fellow in the School of Chemical Engineering & Advanced Materials at the University of Adelaide. She received her doctorate degree from the University of Wollongong, Australia in 2003, followed by postdoctoral work at the University of Wollongong from 2004-2006. She received successive promotions to Associate Professor in 2010, Professor in 2012 and Distinguished Professor in 2019 at the University of Wollongong. She then joined the University of Adelaide as a Top-talented Professor in March 2021.
The interests of her research team focus on the design and application of electrode materials and electrolytes for energy storage and conversion, including rechargeable batteries, hydrogen storage and fuel cells. Her field of expertise includes electrochemistry, charge transfer and transport kinetics, electrocatalysis, solid-state chemistry, and materials synthesis and characterisation.
Browse a selection of Zaiping's work below:
Constructing nitrided interfaces for stabilizing Li metal electrodes in liquid electrolytes
Zhijie Wang, Yanyan Wang, Chao Wu, Wei Kong Pang, Jiafeng Mao and Zaiping Guo
Chem. Sci., 2021,12, 8945-8966
Lanthanide doping induced electrochemical enhancement of Na2Ti3O7 anodes for sodium-ion batteries
Jiale Xia, Hongyang Zhao, Wei Kong Pang, Zongyou Yin, Bo Zhou, Gang He, Zaiping Guo and Yaping Du
Chem. Sci., 2018,9, 3421-3425
A CoSe–C@C core–shell structure with stable potassium storage performance realized by an effective solid electrolyte interphase layer
Xin Gu, Li Zhang, Wenchao Zhang, Sailin Liu, Sheng Wen, Xinning Mao, Pengcheng Dai, Liangjun Li, Dandan Liu, Xuebo Zhao and Zaiping Guo
Mater. Chem. A, 2021,9, 11397-11404
Elucidation of the high-voltage phase in the layered sodium ion battery cathode material P3–Na0.5Ni0.25Mn0.75O2
Jiatu Liu, Christophe Didier, Matthew Sale, Neeraj Sharma, Zaiping Guo, Vanessa K. Peterson and Chris D. Ling
Mater. Chem. A, 2020,8, 21151-21162
Liquid metal batteries for future energy storage
Shilin Zhang, Ye Liu, Qining Fan, Chaofeng Zhang, Tengfei Zhou, Kourosh Kalantar-Zadeh and Zaiping Guo
Energy Environ. Sci., 2021,14, 4177-4202

Submit to Chemical Science today! Check out our author guidelines for information on our article types or find out more about the advantages of publishing in a Royal Society of Chemistry journal.
Keep up to date with our latest articles, reviews, collections & more by following us on Twitter. You can also keep informed by signing up to our E-Alerts.