We wish a very warm welcome to our new Chemical Science Associate Editor Tanja Junkers!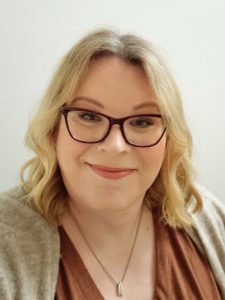 We are pleased to welcome Professor Tanja Junkers to the Chemical Science Editorial Board this month as a new Associate Editor for the journal. She has joined us from Polymer Chemistry where she remains as an Editorial Board member and will continue to serve as an Associate Editor and handle papers until the end of the year.
Tanja studied chemistry and graduated with a PhD in physical chemistry from Göttingen University, Germany, in 2006 and subsequently worked at the University of New South Wales, Sydney, at the Centre for Advanced Macromolecular Design as research associate. In 2008 she moved to the Karlsruhe Institute of Technology in Germany. In early 2010 she was appointed professor at Hasselt University, Belgium, where she founded the Polymer Reaction Design research group within the Institute for Materials Research. In January 2018 she moved back to Australia where she became full professor at Monash University in Melbourne, and since then continues activities there. She remains guest professor at Hasselt University and her group is currently active at both locations. Her main research interests are precision polymer synthesis, use of continuous flow chemistry approaches, light-induced chemistries, polymer surface modification and investigations on kinetics and mechanisms of radical reactions.
Tanja is currently a Guest Editor for a themed collection on Sustainable Polymers which you can explore here.
Browse a selection of Tanja's work below:
A machine-readable online database for rate coefficients in radical polymerization
Joren Van Herck, Simon Harrisson, Robin A. Hutchinson, Gregory T. Russell and Tanja Junkers
Polym. Chem., 2021, 12, 3688-3692
Muconic acid isomers as platform chemicals and monomers in the biobased economy
Ibrahim Khalil, Greg Quintens, Tanja Junkers and Michiel Dusselier
Green Chem., 2020, 22, 1517-1541
Simple and secure data encryption via molecular weight distribution fingerprints
Jeroen H. Vrijsen, Maarten Rubens and Tanja Junkers
Polym. Chem., 2020, 11, 6463-6470
Direct synthesis of acrylate monomers in heterogeneous continuous flow processes
Jatuporn Salaklang, Veronique Maes, Matthias Conradi, Rudy Dams and Tanja Junkers
React. Chem. Eng., 2018, 3, 41-47

Submit to Chemical Science today! Check out our author guidelines for information on our article types or find out more about the advantages of publishing in a Royal Society of Chemistry journal.
Keep up to date with our latest articles, reviews, collections & more by following us on Twitter. You can also keep informed by signing up to our E-Alerts.