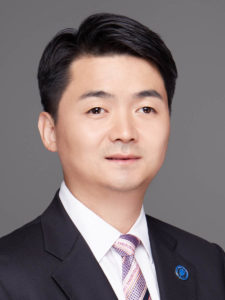 In 2021, Chemical Science was delighted to welcome Professor Jinlong Gong as an Associate Editor, handling manuscripts within the area of heterogenous catalysis. To celebrate this occasion, we met virtually with Jinlong to discuss his research and to discuss the kind of manuscripts that he is looking forward to handling for the journal.
Jinlong's research focuses on understanding the catalytic processes occurring during alkane dehydrogenation and CO2 hydrogenation by developing advanced catalytic materials, as well as optimised industrial processes.
What excites you most about your area of research and what has been the most exciting moment of your career so far?
The major motivation of my research is to provide constructive solutions for a sustainable society, particularly associated with the chemical industry. For example, propane dehydrogenation is a traditional chemical process which has been under development over the past 60-80 years. Our research therefore focuses on trying to develop new catalytic processes to reduce the energy consumption with enhanced catalytic performance. Another example is about the utilisation of CO2 with sustainable energy to produce renewable fuels and help reduce emissions. President Xi Jinping has announced that China's aim is to achieve a carbon neutral society by 2060. Actually, my work on photocatalytic reduction of CO2 follows such a direction. The big challenge in this area is to improve the efficiency, which is currently still low.
Some of the most exciting moments of my career have been when former students of mine have been recruited into faculty positions at top universities. It is always a pleasure to see young researchers grow up independently and then go on to do amazing things! Another exciting moment for me was when we were able to find new oxide materials that displayed very high efficiency for propane dehydrogenation. We believe that this is going to be the next generation of catalysts for this process.
What has been the most challenging moment of your career so far?
It is always challenging to navigate research into a scientifically critical direction at the right time, rather than staying in a comfortable zone. Transitioning the direction of your research into a new but important area tends be exhausting, especially at the start. On the other hand, the potential reward can be more exciting. Sometimes, it is also challenging to convince funders to support an unrevealed but potentially important research direction, which can be a common issue for most scientists.
You have published over 10 papers with Chemical Science since your first publication with us in 2015. Of these papers, which one do you feel has made the most significant contribution to your area of research and why?
One of the pieces that I like the most is a paper that we published in 2019 – hydroxyl-mediated ethanol selectivity of CO2 hydrogenation. In this paper, we developed a catalyst based on Rh, where we simply added some Fe and Li metals as promoters. One interesting thing we found was that, with various oxide supports, we can tune the surface coverage of hydroxyl groups bound on Rh-based catalysts, which has a very important correlation with ethanol selectivity for CO2 hydrogenation. I believe that this story will provide researchers with a deeper understanding of the formation mechanism of ethanol on this kind of catalyst, particularly in understanding the C-C coupling mechanism for this reaction, which is very important if we want to have a high C2 selectivity.
It's been over a year after China's first lockdown started. What changes have you witnessed in the Chinese researcher community? Do you think there are any new challenges or opportunities for chemistry researchers from this ongoing global pandemic?
This is a very good question! Last spring, early in the pandemic, many online seminars were arranged by researchers from all over the world and involved various publishers, which was great for scientific communication. In terms of academic activities, I noticed that there weren't any big delays in the publication process, which again was great. Since last fall, the situation in China has become much better, with most academic meetings now being able to take place on-site.
One noticeable opportunity from the overall research strategy in China is the focus on health. Funding agencies will now put even more emphasis on bio-relevant research. I think there will be a big boom in this area in China in the next few decades. Globally, I believe we will see lots of joint projects taking place between research groups that work in chemical engineering, chemistry, materials and medicine, which will promote multidisciplinary collaboration.
Why do you feel that researchers should choose to publish their work in Chemical Science? 
Chemical Science, as flagship journal of the Royal Society of Chemistry, has a prestigious reputation in the chemistry and physical science community. Chemical Science publishes cutting-edge papers that provide deep and novel understanding of the chemistry of important reactions. Multidisciplinary research, including radical physical chemistry, is also welcome. For example, AI methods used to screen candidate materials or analyse chemical reactions can be attractive. This kind of research, in turn, will reward the scientific community. Chemical Science, as an open-access journal, provides a highly fair publishing platform, and the Editorial Office is also very efficient – manuscripts are turned around in a very timely manner. It is one of best journals publishing chemical research.
What attracted you to join the Editorial Board of Chemical Science?
I have served on the Advisory Board for Chemical Science since 2013, and I am also a regular referee for the journal. Now, I feel that I am very fortunate to have the opportunity to handle submissions to Chemical Science, particularly in the area of heterogeneous catalysis. Chemical Science has a high-profile impact on the scientific community, which provides me with the opportunity to handle exciting scientific research, communicate with diverse groups of scientists, and most importantly, serve the research community. Together with the warm editorial team, we can provide authors with a professional publication experience.
It is important for Chemical Science to have an open and inclusive Editorial Board. Do you feel that we are achieving this goal?
I received a lot of warm greetings when May introduced me to the other members of the Editorial Board. Looking at the profiles of our members in the editorial team, we have great diversity among the board, including Associate Editors from all over the world, with expertise spanning across the chemical sciences. So far, I think we are achieving the goal. They are all renowned scientists.
What impact do you feel that your area of research can make over the next 10 years?
First of all, I would like to highlight the impact that I feel light alkane dehydrogenation can make in the next 10 years. This is a major industrial process to produce ethylene/propylene, which are building blocks for preparing polymers. The development of new technology as well as catalytic materials will further decrease the energy consumption during this process, and also increase the catalytic efficiency overall. This can help to ensure a better and greener industrial process in the future.
My second area of research focuses on the photocatalytic reduction of CO2. It's very important for us to transform from a fossil fuel society into a renewable energy society. Energy conversion and storage technologies will play critical roles in this area. In the next 10-20 years, I think this type of research will definitely have more impact. There has already been a lot of investment into the research as well as infrastructure to support this initiative, so I hope that this goal will be able to be realised.
Submit to Chemical Science today! Check out our author guidelines for information on our article types or find out more about the advantages of publishing in a Royal Society of Chemistry journal.
Keep up to date with our latest articles, reviews, collections & more by following us on Twitter. You can also keep informed by signing up to our E-Alerts.