We wish a very warm welcome to our new Chemical Science Associate Editor Hemamala Karunadasa!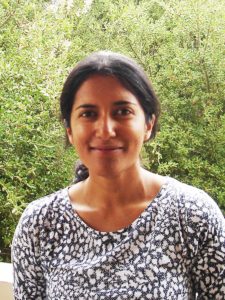 Hemamala Karunadasa is an Associate Professor of Chemistry at Stanford University and a Faculty Scientist at the SLAC National Lab. Her group is invested in gaining synthetic control over extended ionic solids, with a focus on halide perovskites. They seek to both improve technologically important materials as well as to design new materials with unprecedented properties.
Hemamala was born in Sri Lanka and attended school in Colombo. She studied solid-state chemistry at Princeton University, receiving her A.B. in 2003. She moved to molecular inorganic chemistry for my Ph.D., which she received from UC Berkeley in 2009, and for her postdoctoral studies at the Lawrence Berkeley National Lab and at the California Institute of Technology.
As an associate editor, Hemamala looks forward to receiving papers that provide fundamental insights into obtaining desirable properties from new materials.
Browse a selection of Hemamala's work below:
Dimensional reduction of the small-bandgap double perovskite Cs2AgTlBr6
Bridget A. Connor, Raisa-Ioana Biega, Linn Leppert and Hemamala I. Karunadasa
Chem. Sci., 2020, 11, 7708-7715
DOI: 10.1039/D0SC01580F, Edge Article
A pencil-and-paper method for elucidating halide double perovskite band structures
Adam H. Slavney, Bridget A. Connor, Linn Leppert and Hemamala I. Karunadasa
Chem. Sci., 2019, 10, 11041-11053
DOI: 10.1039/C9SC03219C, Edge Article
Tuning the bandgap of Cs2AgBiBr6 through dilute tin alloying
Kurt P. Lindquist, Stephanie A. Mack, Adam H. Slavney, Linn Leppert, Aryeh Gold-Parker, Jonathan F. Stebbins, Alberto Salleo, Michael F. Toney, Jeffrey B. Neaton and Hemamala I. Karunadasa
Chem. Sci., 2019, 10, 10620-10628
DOI: 10.1039/C9SC02581B, Edge Article
Structural origins of broadband emission from layered Pb–Br hybrid perovskites
Matthew D. Smith, Adam Jaffe, Emma R. Dohner, Aaron M. Lindenberg and Hemamala I. Karunadasa
Chem. Sci., 2017, 8, 4497-4504
DOI: 10.1039/C7SC01590A, Edge Article

Submit to Chemical Science today! Check out our author guidelines for information on our article types or find out more about the advantages of publishing in a Royal Society of Chemistry journal.
Keep up to date with our latest articles, reviews, collections & more by following us on Twitter. You can also keep informed by signing up to our E-Alerts.