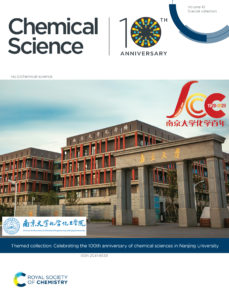 Established in 1920, the School of Chemistry and Chemical Engineering of Nanjing University is one of the world's most active and recognised chemistry institutions. After a century of development and evolution, it is now a globally leading department dedicated to advancing the chemical sciences through cutting-edge research and world-renowned education. Chemical Science and the Royal Society of Chemistry are delighted to help celebrate the 100th anniversary of chemical sciences in Nanjing University with a themed collection. This collection was specially curated by the Dean and Vice Dean of the School of Chemistry and Chemical Engineering at Nanjing University, Professors Shuhua Li and Wei Wang, alongside Chemical Science Associate Editor Yi-Tao Long, Professor of Analytical Chemistry at Nanjing University.
This themed collection features 42 articles published in Chemical Science, the flagship journal of the Royal Society of Chemistry, between 2016-2020 by scientists in the School of Chemistry and Chemical Engineering of Nanjing University. The articles cover a broad spectrum of synthetic chemistry, analytical chemistry, material chemistry, chemical biology, and others.
In joint celebration with the 10th anniversary of Chemical Science, a virtual Symposium will be held on 12th October. The symposium will feature introductions from Chemical Science Executive Editor May Copsey and Royal Society of Chemistry Director of Publishing Emma Wilson alongside scientific talks from Chemical Science Editor-in-Chief Andrew Cooper, Associate Editors Yi-Tao Long and Shu-Li You, and Advisory Board Member Wonwoo Nam.
For more information and to register for this free-to-attend event now please visit: https://www.rsc.org/events/detail/45449/academic-forum-for-100-years-anniversary-of-chemistry-in-nanjing-university-and-10-years-anniversary-of-chemical-science
We hope you enjoy reading this collection and look forward to seeing you at the symposium on the 12th October.