We would like to wish a very warm welcome to our new Chemical Science Associate Editor Professor Gabriel Merino!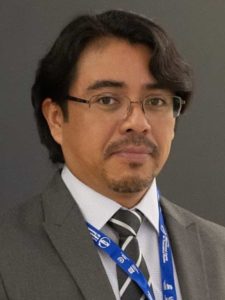 Gabriel is a Professor in the Applied Physics Department at Centro de Investigacion y de Estudios Avanzados Merida (Cinvestav Mérida), México. He studied at the Universidad de las Americas Puebla (BSc in Chemistry, 1997) and Cinvestav Zacatenco (PhD in Chemistry, 2003) under the supervision of Alberto Vela. He then joined the group of Gotthard Seifert and Thomas Heine at TU Dresden as a postdoctoral fellow before returning to Mexico in 2005 to take his first independent research position at the Universidad de Guanajuato. He joined Cinvestav Merida in 2012 and his research group is one of the most active groups in Theoretical and Computational Chemistry in Mexico and Latin America.
Gabriel has also spent time researching at Cornell University (Roald Hoffmann, 2005), and the University of the Basque Country (Jesus Ugalde, 2011). He is a member of the Mexican National Researcher System (Level 3, the highest level), and a member of the Mexican Academy of Sciences. He has been awarded the Research Grant from the Academia Mexicana de Ciencias (2012), the Catedra Marcos Moshinsky (2012), the National Prize "Andres Manuel del Rio" in Chemistry from the Mexican Chemical Society (2017), the Walter Kohn Award (2018) from the International Center of Theoretical Physics, and the Moshinsky Medal (2019) from Institute of Physics (UNAM).
Gabriel has previously served as Associate Editor for RSC Advances (2016-2020) and is currently a member of the editorial board for the International Journal of Quantum Chemistry and ChemistrySelect. His group's main research interests are the prediction of new chemical entities and the study of central concepts of chemistry, such as chemical bonding and aromaticity. You can find out more on their website.
Browse a selection of Gabriel's latest work published by the Royal Society of Chemistry:
Origin of the isotropic motion in crystalline molecular rotors with carbazole stators
Abraham Colin-Molina, Marcus J. Jellen, Eduardo García-Quezada, Miguel Eduardo Cifuentes-Quintal, Fernando Murillo, Jorge Barroso, Salvador Pérez-Estrada, Rubén A. Toscano, Gabriel Merino and Braulio Rodríguez-Molina
Chem. Sci., 2019, 10, 4422-4429
DOI: 10.1039/C8SC04398A
Filling the void: controlled donor–acceptor interaction facilitates the formation of an M–M single bond in the zero oxidation state of M (M = Zn, Cd, Hg)
Ranajit Saha, Sudip Pan, Pratim K. Chattaraj and Gabriel Merino
Dalton Trans., 2020, 49, 1056-1064
DOI: 10.1039/C9DT04213J
Triggering the dynamics of a carbazole-p-[phenylene-diethynyl]-xylene rotor through a mechanically induced phase transition
Andrés Aguilar-Granda, Abraham Colin-Molina, Marcus J. Jellen, Alejandra Núñez-Pineda, M. Eduardo Cifuentes-Quintal, Rubén Alfredo Toscano, Gabriel Merino and Braulio Rodríguez-Molina
Chem. Commun., 2019, 55, 14054-14057
DOI: 10.1039/C9CC05672F
Exhaustive exploration of MgBn (n = 10–20) clusters and their anions
Yonghong Tian, Donghe Wei, Yuanyuan Jin, Jorge Barroso, Cheng Lu and Gabriel Merino
Phys. Chem. Chem. Phys., 2019, 21, 6935-6941
DOI: 10.1039/C9CP00201D

Submit to Chemical Science today! Check out our author guidelines for information on our article types or find out more about the advantages of publishing in a Royal Society of Chemistry journal.
Keep up to date with our latest articles, reviews, collections & more by following us on Twitter. You can also keep informed by signing up to our E-Alerts.