We would like to wish a very warm welcome to our new Chemical Science Associate Editor Professor Lin Chen!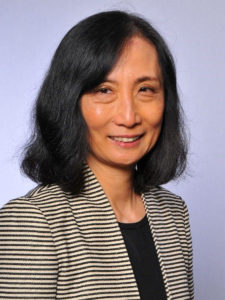 Lin X. Chen is a Professor of Chemistry in Northwestern University and a Senior Chemist in Argonne National Laboratory. She received her Ph.D. from the University of Chicago. After her postdoctoral research at UC Berkeley, she joined Argonne as a staff scientist. In 2007, she joined Northwestern University where her research are focused on fundamental light-matter interactions of different solar energy conversion platforms, including excited state molecular structural dynamics in photocatalytic processes and photovoltaic materials; understanding roles of ultrafast and coherent electronic and atomic motions in in photochemical reactions, and functional structural dynamics of biomacromolecules on multiple spatial and temporal scales. Her main tools for research are ultrafast laser and X-ray spectroscopy/scattering and other property/structural methods in collaborations with theorists and chemists making molecules and materials.
She was awarded one of the highly cited scientists in 2019 by the Web of Science, with >230 publications, and >200 invited lectures. She has been members of the Research Council for the Chemical, Biological and Geological Sciences Division, Basic Energy Science, US Department of Energy, the Advisory Editorial Board of Journal of Physical Chemistry and Chemical Physics Letters, Senior Editor of ACS Energy Letters, and the International Science Advisory Committee for π-Functional Materials. She is an AAAS Fellow and has won distinguished performance award at Argonne. Her group website is at http://chemgroups.northwestern.edu/chen_group/.
Browse a selection of Lin's latest work published by the Royal Society of Chemistry:
X-ray snapshots reveal conformational influence on active site ligation during metalloprotein folding
Darren J. Hsu, Denis Leshchev, Dolev Rimmerman, Jiyun Hong, Matthew S. Kelley, Irina Kosheleva, Xiaoyi Zhang and Lin X. Chen
Chem. Sci., 2019, 10, 9788-9800
DOI: 10.1039/C9SC02630D, Edge Article
Controlled growth of imine-linked two-dimensional covalent organic framework nanoparticles
Rebecca L. Li, Nathan C. Flanders, Austin M. Evans, Woojung Ji, Ioannina Castano, Lin X. Chen, Nathan C. Gianneschi and William R. Dichtel
Chem. Sci., 2019, 10, 3796-3801
DOI: 10.1039/C9SC00289H, Edge Article
Effects of 1,8-diiodooctane on domain nanostructure and charge separation dynamics in PC71BM-based bulk heterojunction solar cells
Sylvia J. Lou, Nanjia Zhou, Xugang Guo, Robert P. H. Chang, Tobin J. Marks and Lin X. Chen
J. Mater. Chem. A, 2018, 6, 23805-23818
DOI: 10.1039/C8TA06865H, Paper
Insulin hexamer dissociation dynamics revealed by photoinduced T-jumps and time-resolved X-ray solution scattering
Dolev Rimmerman, Denis Leshchev, Darren J. Hsu, Jiyun Hong, Baxter Abraham, Irina Kosheleva, Robert Henning and Lin X. Chen
Photochem. Photobiol. Sci., 2018, 17, 874-882
DOI: 10.1039/C8PP00034D, Communication

Submit to Chemical Science today! Check out our author guidelines for information on our article types or find out more about the advantages of publishing in a Royal Society of Chemistry journal.
Keep up to date with our latest articles, reviews, collections & more by following us on Twitter. You can also keep informed by signing up to our E-Alerts.